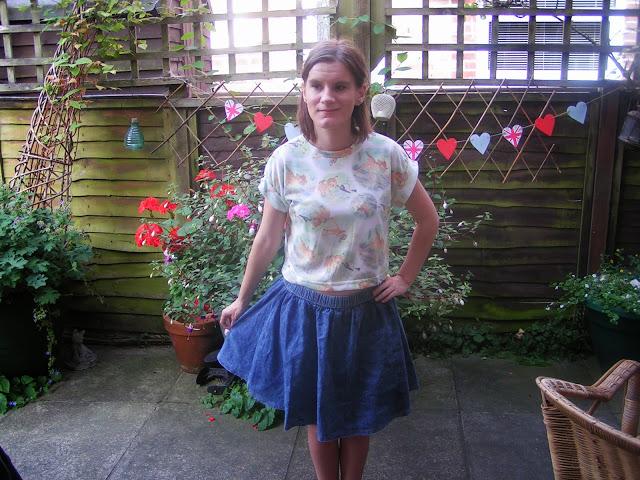 crop top: primark  // denim skater skirt: primark
Hi Pixies! How are you all? I hope that you're all enjoying this amazing weather that were currently having, who needs a Holiday when it's 30 degrees at home? Just make sure that you make the most of it as you never know when it could change.
I didn't plan to pop into Primark on Wednesday but I was running super early for work as I'd walked Jasper at the crack of dawn to avoid the heat so he'd crashed out at home, and I thought that have have a mooch around town beforehand so naturally that's where I ended up, it's automatic now, my feet just take me straight to Primark. I'd been eyeing up their selection of skater skirts for a while and debating wether to buy one or not until I finally caved in (in my defence it was the last one in my size!)  so anyway, I was on my way to the till when I passed by the printed tops, you know, the Disney and My Little Pony ones when this beautiful Bambi crop top caught my eye. Now, I don't know about you but I hardly ever see any Disney tops that doesn't have the 'fab 6' (Mickey, Minnie, Donald, Goofy, Pluto & Daisy) so to find a Bambi one is very rare, for me at least. I also love that it has a faded vintage look about it that makes it all the more adorable. Now I just have to wait until Primark make a Rapunzel crop top in the same style... However if you're not a crop top fan they also have a beautiful short sleeved t-shirt with Bambi and his little doe girlfriend in the same style.