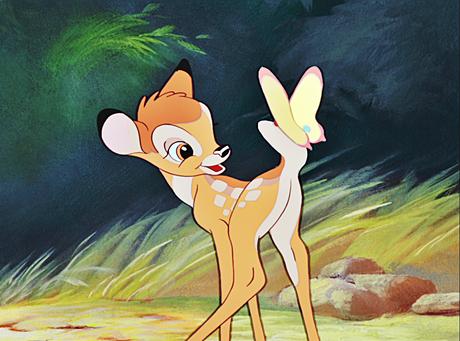 Bambi (1942)
Bambi is a 1942 American animated film produced by Walt Disney and based on the book Bambi: A Life in the Woods by Austrian author Felix Salten. The fifth film in the Disney Animated Canon , the film was released by RKO Radio Pictures on August 13, 1942, during World War II. The main characters are Bambi (a white-tailed deer), his parents (the Great Prince of the Forest and his unnamed mother), his friends Thumper (a pink-nosed rabbit), and Flower (a skunk), his childhood friend and future mate, Faline and the villain of the story Man.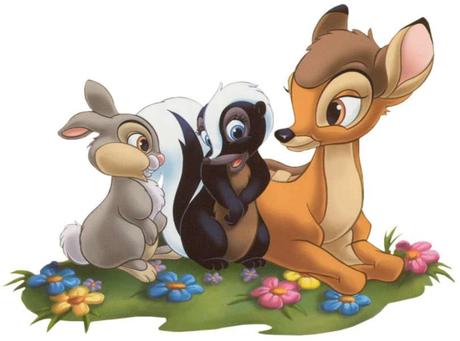 The plot centers around Bambi learning to grow up in the wild after his mother is shot by Man. For the film, Disney took the liberty of changing Bambi's species into a white-tailed deer from his original species of roe deer, since roe deer do not inhabit the United States, and the white-tailed deer is more familiar to Americans. The film received three Academy Award nominations for Best Sound, Best Song for "Love Is a Song" and Original Music Score.
Story: 
A doe gives birth to a fawn in the thicket whom she names Bambi. After he learns to walk, Bambi best friends Thumper, a young rabbit, and while learning to talk he meets Flower, a young skunk. One day his mother takes him to the meadow, a place that is both wonderful and frightening. There he meets Faline, a doe-fawn, and his father, the Great Prince of the Forest. It is also during this visit that Bambi has his first encounter with man, who causes all the animals to flee the meadow. During a harsh winter, Bambi and his mother go to the meadow and discover a patch of new grass, heralding the arrival of spring. As they eat, his mother senses a hunter and orders Bambi to flee. As they run, gun shots ring out. When Bambi arrives at their thicket, he discovers his mother is no longer with him.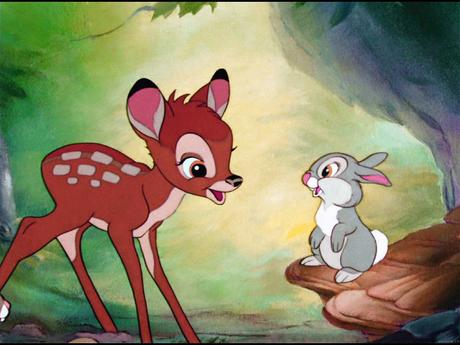 He wanders the forest calling for her, but she doesn't answer. His father appears in front of him and tells Bambi "your mother can't be with you anymore," then leads him away. In the spring, an adult Bambi is reunited with Thumper and Flower as the animals around them begin pairing up with mates. Though they resolve not to be "twitterpated" like the other animals in love, Thumper and Flower each leave with newly found mates. Bambi is disgusted, until he runs into Faline and they become a couple. As they happily dance and flirt through the woods, another buck, Ronno, appears who tries to force Faline to go with him. Though he initially struggles, Bambi's rage gives him the strength to defeat Ronno and push him off a cliff and into a river below.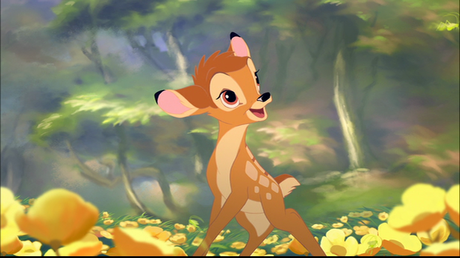 That night, Bambi is awoken by the smell of smoke. His father explains that Man is in the forest and they must flee. Bambi goes back to search for Faline, but she is being chased by hunting dogs. Bambi finds her in time and fights off the dogs, allowing Faline to escape. With Faline safe, Bambi runs but is shot as he leaps over a ravine. The Great Prince finds him there and urges him back to his feet. Together, they escape the forest fire and go to a small island in a lake where the other animals, including Faline, have taken refuge. At the end of the film, Faline gives birth to twin fawns, Bambi stands watch on the large hill, and the Great Prince silently turns and walks away.
---
---
* Information on the traditional uses and properties of herbs/ animals/ yoga/ places  are provided on this site is for educational use only, and is not intended as medical advice. all image credit goes to their Photographers.