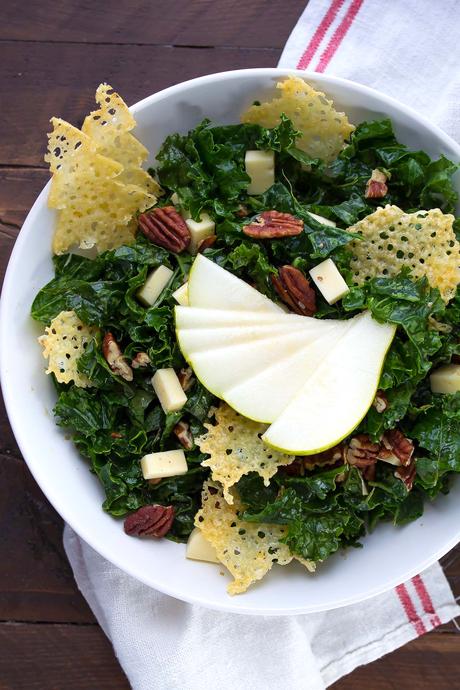 A delicious kale salad that is perfect for a holiday side dish!  Packed full of goodies: pears, pecans and havarti crisps!
Hello and welcome to the very last recipe for 2015!
Can you believe the year is coming to a close?  I can, and I have to say, I'm glad that it is.  I can remember starting 2015 this year and thinking to myself "this year is going to be hard".  And it has definitely been a challenging one.
But now I'm starting to look towards 2016 and I don't know exactly what it will bring, but I am very optimistic!
So I thought it would be fun to finish off 2016 with a simple, delicious and healthy recipe that would be absolutely perfect on your table for a holiday dinner:  this kale salad, packed with goodies.  Havarti cheese 2 ways (creamy cubes and crunchy crisps), pears and pecans, all tossed in a tangy balsamic vinaigrette.
*Arla Foods is providing one Canadian reader with a gorgeous cheese board, porcelain markers, and $25 worth of Arla Dofino Cheese products. That has the makings of one great cheese party!  Scroll past the recipe to enter!
Continue reading: Balsamic Winter Kale Salad with Havarti Crisps