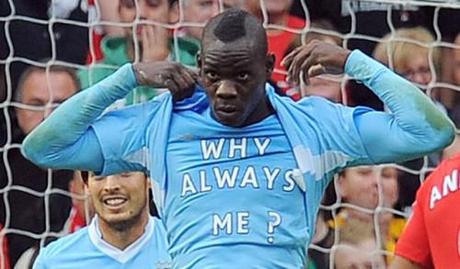 "Well...now you come to mention it..."
One of the first occasions I set eyes on Mario, was during a highly-charged Champions League semi-final, where the young eccentric number forty-five was having what appeared to be a touch-line rant at his own boss at the time, Jose Mourinho. Following Seville, many Celtic fans and neutrals have had an ongoing dislike for the egotistical Mourinho. He not only sent his Porto side out with barely a hint of sportsmanship that evening – but also, quite shockingly, neglected to acknowledge Martin O'Neills' sides colossal effort in what turned out to be an enthralling struggle in the Spanish heat.
Therefore your sympathies at the outset, were with Balotelli. At first glance, even though you were totally enthralled at the theater which was orchestrating itself out with the beautiful game on the pitch, there was a sense of worry as to why such an event had manifested itself during such a fixture? After a few minutes had passed it was revealed that the Italian youngster was asking the Portuguese boss for a substitution due to alleged racist chants directed at him from his own supporters wearing the black & blue from one half of Milan. A truly disgusting, but not unexpected act from supporters in Italy which unfortunately, for a time was accepted as the norm – Balotelli had only came on as a substitute twenty minutes from the whistle and ended the match by discarding his match shirt and throwing it to the ground to the vitriolic  home crowd.
We fast forward twenty-months and to the Etihad stadium in last nights Carling Cup tie with Liverpool where the controversial star is returning after a knock which left him out of the equally polemically Manchester Derby on the 7th of January.
 "You can't take your eyes off him"
Not a truer sentence has passesd from the lips of the much maligned, but mainly self-inflicted,pundit, Mark Lawrenson. From the team bus to the tunnel, pre-match warm up to the handshakes, to the pitch and the sometimes more encapsulating antics off it – Mario Balotelli is a character the type which has been missing from the spotlight of World Football for many years.  Last night was typical of his turbulent footballing career, City who were missing a few key men anyway, did not start the game or end it, in any sort of positive manner – the man in question could not control passes, at times stood statuesque and only broke a sweat chasing Charlie Adam after a foul and a clip on the ear from the ex-Ranger.  Thirty-five minutes into the game, he was replaced by Samir Nasri, gingerly leaving the field to muted and confused applause. Only a few days previously, social media was ablaze with Balotelli  trending following reports that on filling up his car with petrol, he held the pump overhead in jubilant exuberance and vowed to meet the costs of all other customers on the forecourt at that time.  Tales of this caliber are rarely given enough airtime within the media these days with the majority of stories focusing on the negative aspects of football, be it extra-marital affairs, drug & alcohol abuse or "illicit chanting" from supporters.
The Italian born forward seems to be singe-handily attempting to enhance the sports image, but with a fair share of his slightly idiotic actions he helps re-address the balance. That in itself is by the wayside, as a public figure he has entertained on & off the field so far this season and has helped catapult his side to the top of the Premiership – every headline that has centred around Balotelli this season has put a smile on my face whether it be football or firework related. Ian Crocker was against lambasted on Twitter during the week when the possibility of a Celtic Scottish Cup tie at Inverness arose following the few mentions he gave it during the defeat of Peterhead. For pundits, presenters and television companies, these upsets and "feel good" shocks are the lifeblood of keeping the neutral viewer South of the Border and further afield interested (we all know the rest of Scotland wants us to lose!), for the prosperity of ESPN, Sky Sports and Scottish football. So for "Super Mario" to be making such a name for himself after only just over a year in Britain, it keeps a healthy momentum of interest building around the beautiful game.
In the purest sense he probably isn't the idea role model for children –  he is by far the worst and children from a technical aspect could not fail to be impressed with his skills – perhaps his temperament and work rate could be re-assessed in order to make a more rounded player, but I think trying to iron out his slight deficiencies would backfire on any respective manager looking to get a decent strike rate from the single-minded man. Not since the heyday of George Best, Paul Gascoigne or Frank Macavennie, has there been such spotlight and comment on one individual – the difference so far with Balotelli, is that he does not have the demons to go with it. Ill-mannered, stupid and sometimes irrational but his extroverted activities are for the most, comedic and done for no other reason than enjoyment and laughter – whilst his share in the City coffers have meant that his spare cash is not always frittered away, but often donated (see Petrol station scenario above) to others less fortunate than himself.  Driving around Manchester chucking notes out of his car window, giving a grand to a homeless man, and not to mention a couple of hundred to a local church – his good nature and love of life seems to shine through.
"The problem is because of his age, he can make some mistakes. He's Mario. He's crazy – but I love him because he's a good guy.
They have not always seen eye to eye, but the words above of Roberto Mancini show that the Italian manager shows that the Italian manager has a real connection and belief in Balotelli's abilities and maintains a fatherly outlook for the twenty-one year olds wellbeing. Mancini's faith has been restored with a positive goal return of eleven so far this season, which is already one more than last term, and some startling performances to parachute the Blue side of Manchester into top spot. The return of the dark side to Carlos Tevez's psyche has seen City's three other star strikers given more of the limelight – which may in hindsight, have solved a possible selection headache for the manager. This positivity directed toward the Palermo-born star from the higher echelons is a far cry from his stint with Mourinho at the San Siro – a strained relationship which led to disciplinary problems and a public slaying by the Special One was not conducive to a productive player. If Balotelli can keep his focus on the pitch and enjoy his life in this country, I am certain he can fire his side to the Premiership title come May.
55.816217
-4.203185
Advertisement