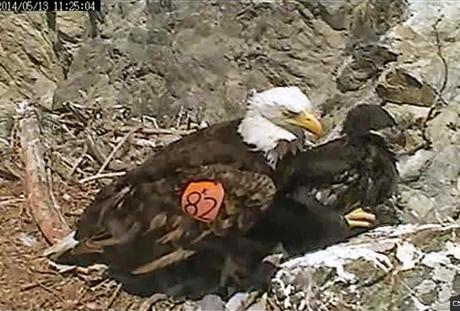 Mother and 6 week old eaglet at the Two Harbors Nest, Catalina, California
Its nesting time for eagles on Catalina and I'm watching the chick grow up in the Two Harbors nest--on the live video cam. Hatched March 25th, the chick is now at that awkward age. On Thursday, May 15, at around 1:00 pm it was tagged. Here is the chick next to Mom (#82 Liberty).
Every year I keep watch on the Catalina eagle nests via the live video. 
If you want to watch what s happening at
the Two Harbors Bald Eagle nest on Santa Catalina Island, California go to http://www.ustream.tv/two-harbors-cam . The nest is active from February through July. Please visit the Channel Islands Live! Eagle CAM Discussion Forum for current and past happenings at all of the eagle nests, as well as weekly updates from the biologists in the field. There are multiple cameras, so please click here for all the cams and chat combined.
You can learn more about eagles in my book A Bald Eagle's World (Picture Window Books, 2010).