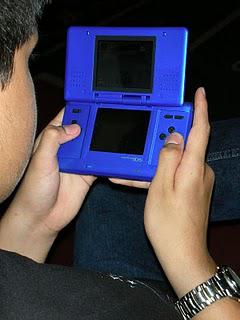 This is such a battle at our house. I hate trying to pry my kids away from a Wii or computer game. I need to set some serious rules because when I just decide it has been long enough-as most of you know-that causes problems. The kids do much better when I set the timer. I do think it's important for kids to stay very to date with technology. I do not think it should be limited too much. They are learning skills that will benefit them. It's not just a waste of time IMHO. Obviously, they can get too much of it and I think it's really hard to balance that. How do you do it?


FROM NBC: Technology has made life a lot more convenient, but could it be holding back your child's development?

Some teachers say when kids spend time on the computer, watching television or playing video games they're not out exploring and socializing activities that build basic skills.


You won't find any computers or television sets in Dana Fanning's pre-K class at St. Michael's school. You will find a lot of activities building motor skills. It started when the children came in and they started not being able to hold their pens or their markers or their pencils correctly.

The cause? Fanning says it's too much technology, computers ipods and video games.




Dana Fanning/Teacher: "Our thumbs are very strong because we're using our thumbs a lot to do things and then we have our hand here but it doesn't help us with our fine motor to hold the pencil and to actually write." Four years ago Fanning revamped her entire curriculum to include special "games" building motor skills, threading yarn, balancing on balls and building planes.




Even this chalkboard is part of Fanning's curriculum. She says the friction of the chalk against the board helps build dexterity and muscle memory that will later help them hold pencils and learn to write- something a white board doesn't do." But the problem goes even further: socialization skills and creativity. "They're not out playing with kids in the neighborhood. They're sitting in front of the TV playing games."




Crista Plant at Longfellow Elementary did her graduate studies on children's sleep patterns and says technology is costing kids hours of sleep.




Crista Plant/Teacher: "It's huge it affects the kids all around it affects them academically it affects them socially it affects behaviorally it affects them all over because they're lacking sleep because they're staying up playing video games." And as more kids start schooling without these basic skills... teachers have to dial back their lessons.




"We are needing to address those first before we can push through the academics." "They just don't have the skills that we all took for granted."




-NewsAnchorMom Jen


Skin Dimensions SB products, exclusive to Soderstrom Skin Institute, are manufactured with Pharmaceutical-Grade ingredients. In addition to being "Feel Good Products," they contain unique and innovative ingredients in concentrations that can assist you in the achievement of your own personal skin care objectives. This product line contains higher percentages of Glycolic, Vitamin A, C, E, Co-Q10, green tea, than what you can purchase over the counter.