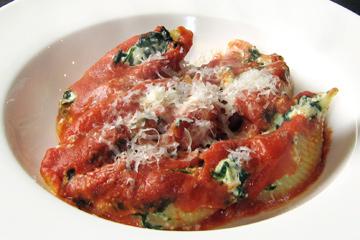 As mentioned in the Pasta 101 article, baked pastas have an important role in Italian cuisine. For this cooking style, larger cuts of pasta are layered or stuffed with filling and baked in a pan along with a sauce. The most known examples are lasagna (sheets of egg noodles, layered with Bolognese sauce and Parmesan), and cannelloni (pasta tubes with ricotta and spinach or meat filling, covered in béchamel and/or tomato sauce).
Baked pasta dishes can be made with either dried or fresh pasta. When dried pasta is used, it often needs to be partially pre-cooked by boiling it briefly in salted water. For big cuts like lasagna sheets or cannelloni, this is quite time-consuming as the pieces need to be cooked a few at a time or they to tend to stick to each other. Alternatively, "oven-ready" pasta can be put directly in the oven as long as the sauce is sufficiently watery (the excess moisture will be absorbed by the pasta as it cooks). Fresh pasta never needs pre-boiling.
To ensure proper cooking, it's often recommended to cover the baking pan tightly with tinfoil, and then remove it part way through the cooking. This is especially necessary when using oven-ready pasta.
Texture-wise, baked pasta is very different from boiled pasta. Because of the prolonged cooking times and the higher temperatures reached in the oven, the parts that are covered in sauce turn softer, and those that are exposed to the air become gummier or even crunchy. These modifications and the blending between the pasta and the sauce and filling, result in a completely different pasta experience.
Unlike boiled pasta, baked pasta reheats very well - and reheating sometimes even helps develop more flavor (some Italians purposely bake their lasagna the day before!).
Ingredients for 4-6 people
- 250 g quality, dried conchiglioni (big shells)
- 300 g fresh spinach (frozen spinach can also be used)
- 500 g fresh ricotta
- 700 g strained tomatoes
- 50 g heavy cream
- 100 g Parmesan
- 1 egg
- 20 g of butter
- salt and pepper
Preparation
- Cook the spinach in a large pot, covered with a lid, at medium-high heat, without any water for 5-8 minutes until they will have reduced in volume (fig. 1 and 2). If using frozen spinach, skip this step.



- Mix ricotta, egg, Parmesan, plus some salt and pepper (fig. 3).
- Then add the cooked spinach, chopped and squeezed, and stir (fig. 4).



- Meanwhile, boil the pasta in salty water for 2/3 of the cooking time on the box (fig. 5). If using fresh pasta, skip this step.
- Drain and let the pasta cool off on a towel, then stuff every shell with a tablespoon of filling. Lay them on the baking pan previously coated with butter (fig. 6).
- Mix the strained tomatoes with the heavy cream, then pour on the pasta. Add the butter in small chunks (fig. 7).
- Bake for 30 minutes at 350 °F (180 °C) covered by tin foil, then for another 10 uncovered (fig. 8). Serve with a sprinkle of Parmesan.