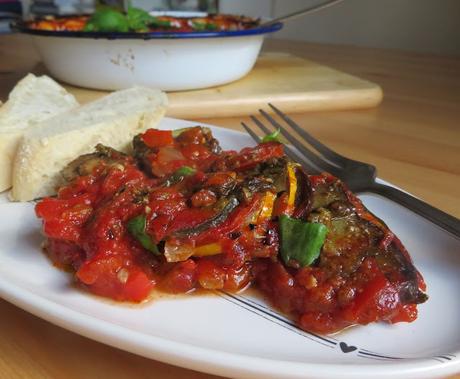 I  have to put my hand up here.  In the past when people have waxed on about Ratatouille, I just didn't get the appeal. I had tried to make my own a few times and hadn't really liked it.
I had eaten frozen ratatouille bought from the shops and hadn't enjoyed that either.  I had tried roasting each vegetable separately and combining them together at the end.  Still not getting the appeal.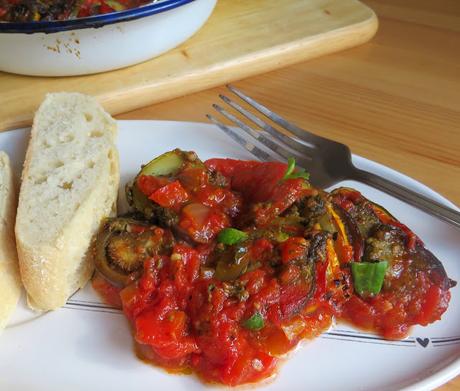 But I so wanted to get it, to enjoy it too.  I was not ready to give up on it just yet.  I couldn't understand why so many people waxed poetic about it. I wanted to be able to do the same. 
And so I kept with it, persistently.  Periodically trying a new recipe to see if I might not come up with something that I enjoyed. I so wanted to be able to taste what it was that other people were tasting.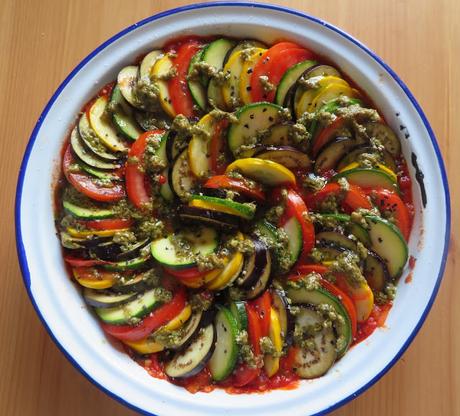 A few weeks back I saw a video on Tasty for what looked like a really pretty ratatouille.  It was composed of a sauce that was cooked first on top of the stove and then layered in a dish.
Next they added layers of thinly sliced rounds of vegetables to the top. They were arranged so prettily. It looked like a picture. 
They drizzled a basil oil over top and then covered it tightly and baked it, until the vegetables were meltingly tender. It looked quite promising.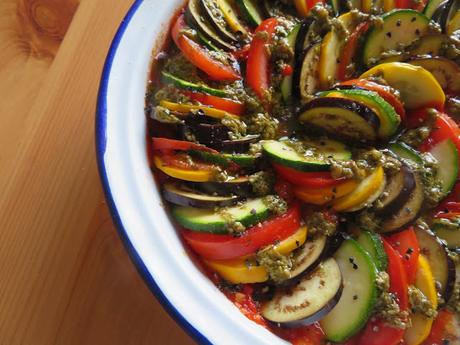 This week I added all of the vegetables to my grocery order so that I could make it.  I bought myself some fresh yellow and green courgettes (zucchini) and ripe roma tomatoes.  I also bought some baby aubergine (eggplant). 
I did not want to make a full recipe, as I knew it would be far too much for us to conceivably eat. We do not have the appetites these days that we used to have in the old days.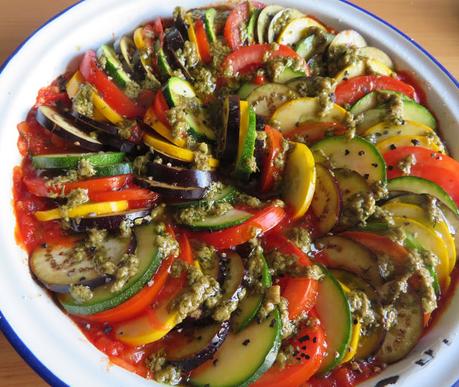 Instead of their suggested topping for the vegetables I created one of my own using basil pesto, olive oil and a splash of Balsamic vinegar.  I cannot think of anything that doesn't taste much better when having added a bit of Balsamic vinegar to it. 
It looked as pretty as a picture before it went into the oven. I was so pleased with how it looked. I was almost dancing around the room. If this tasted even half as good when done as it looked before baking, we were in for a real treat!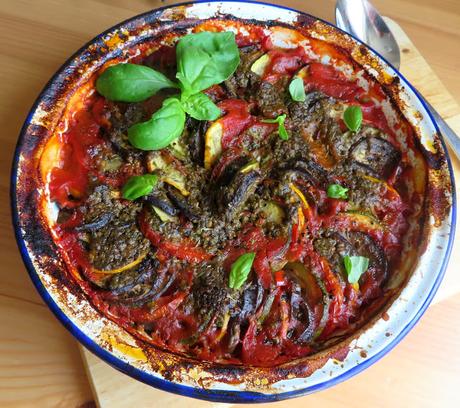 I envisioned this beautiful pie dish of ratatouille coming from the oven. We eat first with our eyes after all, and it did smell quite lovely when it was baking. 
Hmmm . . .  it came out looking a bit like a dog's dinner I am sad to say. LOL  I had to laugh when I saw it. Where was the visual appeal?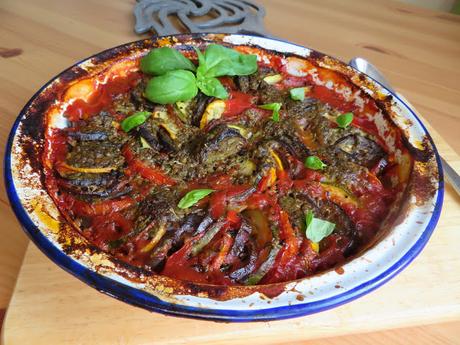 Anyways, I dutifully scattered some fresh basil over top and took some photos. If I am honest, and I always am, I wasn't feeling very hopeful. 
To say I was more than a tad bit disappointed in how it looked is a bit of an understatement. The proof of the pudding is in the eating however, so I was reserving my judgment for that.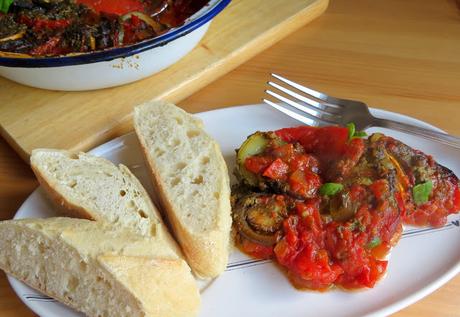 Even though there was a huge part of me that was thinking that if this looked this nasty, then it was going to taste nasty also. Admittedly it looked quite a bit better once I broke through and spooned some of it onto a plate.
But how would it taste . . .  I held my breath. I had some lovely fresh French Bread that I had been saving to dip into it when it was done.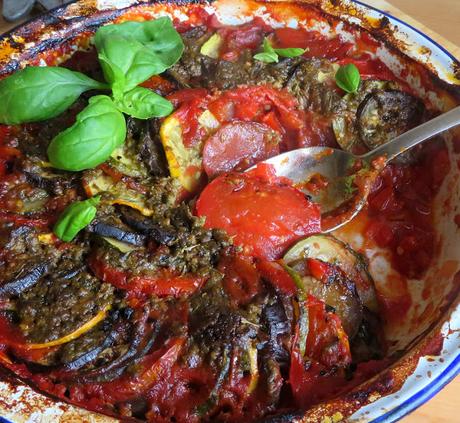 Admittedly, I hate to waste food.  Fresh vegetables are somewhat expensive, even at this time of year when they are plentiful. If you don't have a garden, you are at the mercy of the shops. 
I have to say the fresh veg I have been getting from Ocado have been really nice. They cost a bit more than Asda, but quality speaks for itself, and I have been more than happy with everything.  They have now partnered with M&S and M&S is quality.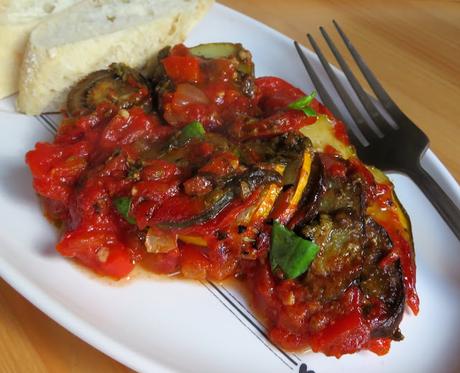 I spooned some out onto the plate. It didn't look half bad. It smelled gorgeous if I don't say so myself. I was feeling rather hopeful. 
I had my crusty bread at the ready.  Was I going to be happy?  Was I finally going to see why people wax lyrical about Ratatouille?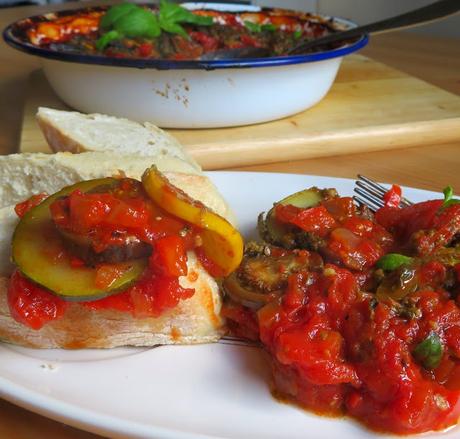 I was pleasantly surprised just by what it looked like spooned onto my plate. It actually looked so good that my tastebuds started to tingle  . . . 
It was filled with color and texture. It smelled amazing. I was beginning to be hopeful.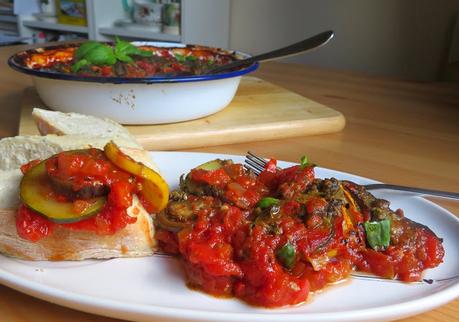 I spooned some onto my bread. I did not butter the bread. I did not want my palate for the ratatouille spoiled by my love of butter. I wanted to try it completely unadulterated . . . 
I did toy with the idea of toasting my bread, but in the end, I left it in its natural crusty state.  I am happy that I did.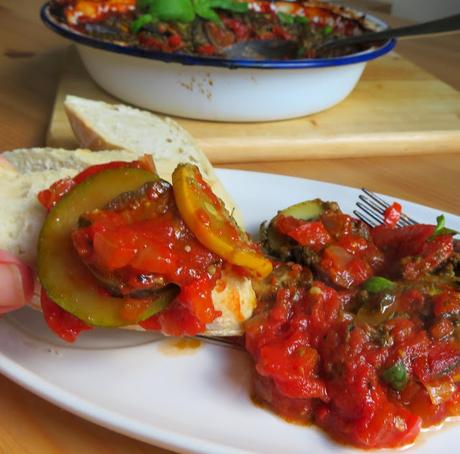 This was amazingly delicious!  I was really pleased.  The zucchini and the eggplant were properly tender.  The tomatoes melted in the mouth  . . . 
There was none of the bitterness that you can sometimes get from both zucchini and eggplant. Both were somewhat buttery, almost sweet and somewhat indulgent.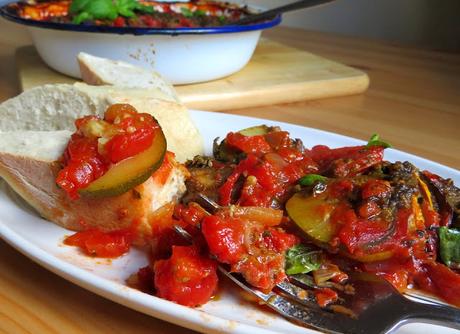 The flavor of the sauce that was on the bottom perfectly enhanced and had flavoured everything. The pesto/balsamic mixture I had sprinkled on top had done its job perfectly.
The crusty bread was perfect without butter. It did a beautiful job of mopping everything up. I did what I had not done in a very long time. I went in for seconds.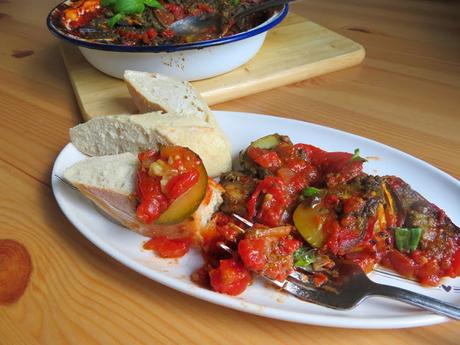 I begin to understand now why it is that people fall in love with ratatouille. I, too, have fallen in love. I am wishing now I had not downsized my recipe to feed only two. 
Although having said that, even the quantities for two were more than ample. I cannot imagine having twice this amount to deal with. It will keep quite a while in the refrigerator however. Maybe next time I will make the full amount. I wonder how it would taste tossed together with some pasta? Food for thought there.
Baked Ratatouille for Two
Print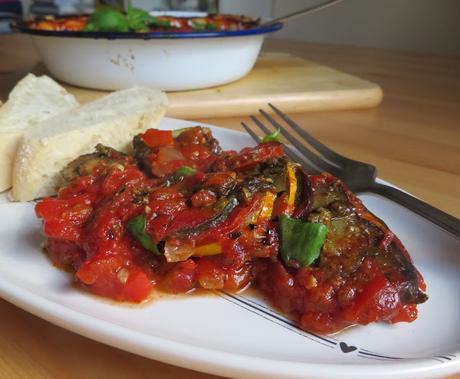 Yield:
2 generous servings
Author:
Marie Rayner
prep time: 15 Min
cook time: 55 Min
total time: 1 H & 10 M
Bursting with lush flavours. Perfect to serve with crusty bread. Leftovers can be kept in the refrigerator, tightly covered, for up to one week.
Ingredients:
For the tomato sauce:
1 14-oz (400g) tin of chopped tomatoes in tomato juice
1/2 small red bell pepper, trimmed and chopped
1 small onion, peeled and chopped
2 cloves garlic, peeled and minced
salt and black pepper to taste
6 basil leaves chopped
For the vegetables:
1 medium  green zucchini (courgette) thinly sliced, 1/8 inch thick
1 medium yellow zucchini (courgette) thinly sliced, 1/8 inch thick
1 very small egg plant (aubergine), trimmed and thinly sliced, 1/8 inch thick
2 roma tomatoes, cored and thinly sliced, 1/8 inch thick
fine sea salt and black pepper to taste
You will also need:
1 TBS basil pesto
1 TBS olive oil
1 tsp balsamic vinegar
torn basil leaves to garnish
crusty French bread to serve
Instructions:
Begin by making the sauce.  Add the oil to a saucepan. Add the peppers, onions and garlic. Sweat over medium heat, stirring frequently for 4 to 5 minutes until tender. Add the tomatoes and seasonings.  Simmer for about 15 minutes until nicely thickened. (This is important as the vegetables will give out more liquid in the oven and you don't want them to dilute the sauce too much.) Pour into an 8 inch pie dish, smoothing over the top. Place on a baking tray.
Preheat the oven to 190*C/375*F/ gas mark 5. 
Arrrange the sliced vegetables decoratively over top of the tomato sauce, pushing them down into it a bit. 
Whisk together the pesto, olive oil and balsamic vinegar. Drizzle this over top of the vegetables in the baking dish.  Cover tightly with aluminum foil.
Bake in the preheated oven for 40 minutes. Uncover and bake for a further 10 to 15 minutes, until the vegetables are meltingly tender.
Serve warm or at room temperature, garnish with fresh basil and with some fresh French bread to help mop all of it up.  Delicious!
notes:
Make sure you cook the sauce until it is nice and thick. When it is baking the other vegetables will release plenty of liquid and thin it out. You may use a thick marinara sauce in its place instead of making your own. If you prefer crisper vegetables you can reduce the bake time. If you want softer vegetables you can increase the bake time.
Did you make this recipe?
Tag @marierayner5530 on instagram and hashtag it #EnglishKitchenCreated using
The Recipes Generator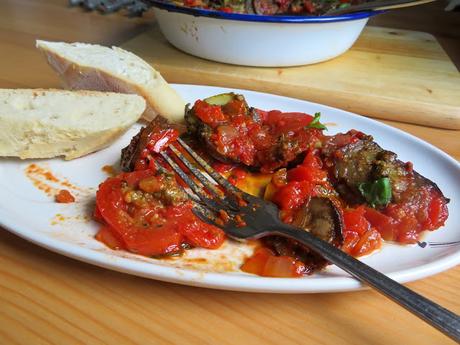 I am really pleased that I decided not to give up on ratatouille. If you have never tried it before, I really hope that you will.  Especially now when we have an abundance of fresh zucchini and tomatoes to work with! 
This content (written and photography) is the sole property of The English Kitchen. Any reposting or misuse is not permitted. If you are reading this elsewhere, please know that it is stolen content and you may report it to me at: mariealicejoan at aol dot com 
Thanks so much for visiting. Do come again!