My kiddos love cheese, as a mom, I often want entice them with food that has cheeses in it.
One such dish is Baked Cauliflower.  If I am preparing many items as meal on that day.  This baked cauliflower I must say save me lot of time and yet taste yummy.
This time round, I omitted the cream and used an airfryer to prepare.  Surprisingly the cauliflower was baked nicely.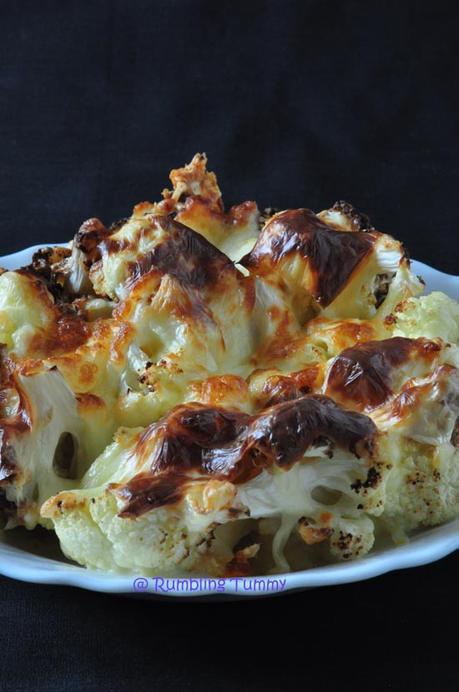 What you need:
1 med size head of cauliflower
Cheddar and mozzarella cheese
Salt and pepper to taste
Method:
Cut cauliflower into small pieces.  Remove center stem.
Lined a oven proof plate with baking paper.
Arrange cauliflower on it.
Sprinkle salt and pepper.
Air fried at 160 deg for 10 mins.  Remove and turn the vegetable around.
Bake for another 10 mins until it is soft.  If not, continue another 5 - 10 mins until it is cooked.
Increase to 180 deg in the air fryer.
Sprinkle generous amount of cheeses.
Bake for 5 - 8 mins or until cheeses turned golden brown.
Remove and serve.
If you have enjoyed this post by Rumbling Tummy, be sure to follow this Rumbling Tummy on Facebook, Instagram, Pinterest, Twitter and Google+.