Hubby is down with suspected covid and though I tested negative, we decided to stay home.   Prepared this as Baked Banana Oatmeal for breakfast.  Moving forward, we need to relook at our diet after our health screening report especially the nearly nightly ice cream treat we have been giving ourselves.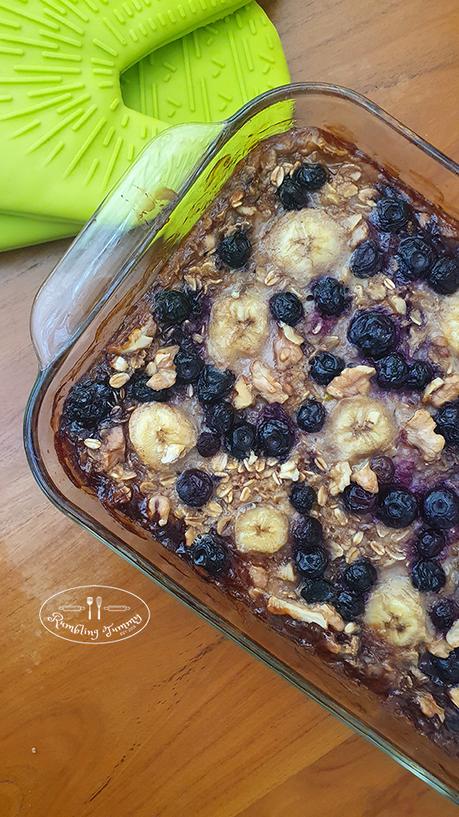 What you need:Serve: 6 
4 medium ripe bananas, sliced into ½" pieces, leave 1 to garnish1½ blueberries, leave some for garnish¼ cup agave
100g rolled oats100g chopped walnuts, leave some for garnish½ tsp baking powder
3/4 tsp cinnamonpinch of salt1 cup milk1 large egg1 tsp vanilla extract
Method:
Preheat oven to 180℃.  Grease an 8X8" square pan.
Arrange banana slices in a single layer, scatter ½ of the blueberries on top of the bananas, and sprinkle ¼ tsp of the cinnamon and 1 tbsp of the agave.  Cover with foil and let it bake for 15 mins.
In another bowl combine oats, ½ of the walnuts, baking powder, and remaining cinnamon and salt, and stir to mix.
In another bowl, whisk agave, milk, egg, and vanilla extract.
Remove the bananas from the oven, and pour the oat mixture over the banana mixture.
Pour the milk mixture over the oat's mixtures, and spread as evenly as possible.
Sprinkle the remaining banana, blueberries, and walnuts over the top.
Bake for 30 mins or until golden brown.  
Serve warm.
Enjoy!


If you have enjoyed this post by Rumbling Tummy, be sure to follow her on Facebook, Instagram, Pinterest, Twitter