Not long after the Earthwatch group left Lajuma we were joined by 14 students and 2 teachers from Bainbridge High School, Seattle. After a long old flight from America they arrived at Lajuma in time for dinner on the 30 th July. This was the first of many meals which lead to our resident chef, Kyle, to become known as a wizard - needless to say everyone enjoyed the food.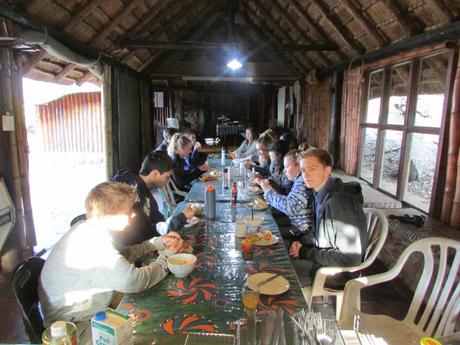 Dinner time with Bainbridge High School
Another busy schedule saw the students taking part in many activities at Lajuma Nature Reserve. The group did all the hiking for the predator team, and checked all 15 of the camera stations we hike to. They also tagged the photos they collected - all 19,610 of them! In fact, they did such a good job that they finished early and helped out with some of Phil's tagging, as well as photographs collected during my PhD that still need to be sorted. What a great job! The students also collected data on phenology, vegetation plots, and samango monkey behaviour for our primate team. A day was spent visiting one of the local schools off the mountain, and the students taught a class of 80 children all about wildlife in their local area. Everyone was very excited...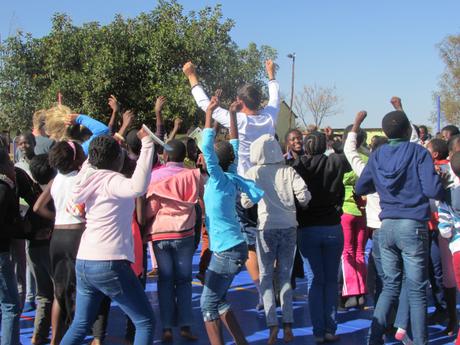 Students from Bainbridge High School leading the cheering for the Herbivore Team
The Bainbridge students never seemed to tire, even after we had them conducting snare sweeps, clearing and re-marking one of our hiking trails, removing invasive plant species from the mountain, and hiking to the top of the Mount Lajuma. Some of the boys even went for an extra run at the end of the day - I wish Kyle's food gave me that much energy! As if this wasn't enough, being a school trip the students also learnt a lot from the many presentations given by our staff and assistants - from biodiversity on the mountain, and primate and predator behaviour, through to invasive species ecology.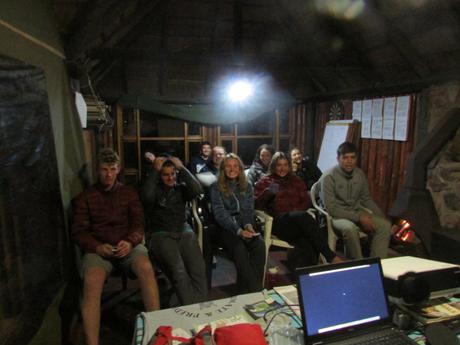 Students listening to a presentation
Towards the end of their stay, the group enjoyed a visit to nearby nature reserve Leshiba and a trip to Kruger National Park. However, they always returned to Lajuma, and so it was our job to take them back into town to catch the bus back to Johannesburg on the 16 th August. With a few tears we waved them off as the bus pulled away, and we sure have missed them at Lajuma since - it has been way too quiet. Come back next year!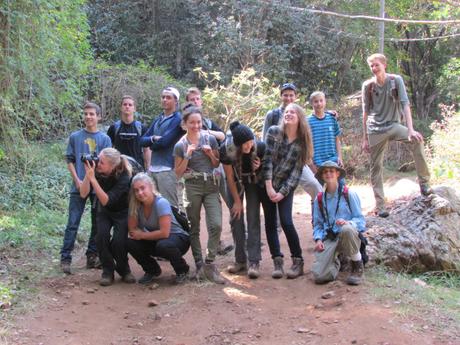 The group of students from Bainbridge High School