Tomorrow at 9.30 a.m. I will be standing by the door outside my classroom, waiting impatiently and anxiously for my pupils to arrive. I've got my money on two girls (F. & M.) to be there first. I will look them in the eyes, greet them, shake their hands and ask about their holidays. They will smile, because they're the ones who have been looking forward to this moment: working at a higher level with me as their mentor. They were already so excited before the summer holidays.
Then the other pupils will look for me (the pupils who already know me) or for the classroom (the pupils who don't know me). I will wish them all a good morning, shake all of their hands and ask them about their holidays. I will answer questions about my own holidays. I will introduce myself to the pupils who don't know me yet, but will. They'll get a first look at my newly decorated classroom.
It is an exciting year for me. I'll be 'mentoring' 22 pupils – 16 boys and 6 girls – through their second year of secondary school. I've seen quite a few of them as first years, as their English teacher, and even as a mentor to some of them. There are, however, pupils who took their first year at a different school and didn't like it there. Or they were at a different school at a level that was too high for them, and they had to come to my school to take a lower level. Or they came from my school, but from a higher level, and they just couldn't keep up there. Eleven of my pupils are pupils with special educational needs. Some are dyslexic; others have significant arrears in reading or maths, or both. All of them are hoping that this year will be a good year.
I will introduce myself in front of the classroom and get the kids to introduce themselves briefly to the group. When they see me and hear me talk about myself, some will immediately like me. Others will think: let's wait and see what she's all about. She's young and a bit on the small side, so we might be able to get away with quite a few things. I will prove them wrong. So that I'll become a trustworthy person who they'll be able to depend on and come to if they feel like they need to.
I'll hand out schedules and we'll get their books. They'll be looking at their schedules, thinking about who's going to teach them in which subject, looking at their school hours and if there'll be any possibility for them to sleep in during the week. They will come to the conclusion that they like some of the teachers, but not all of them. They'll be happy to see that they'll be able to sleep in three times a week, but that the classes sometimes run late. Understandably, they'll be kind of mad when they notice that they have six classes on Fridays.
I will let them mope for a little while, they're adolescents after all, but then I'll take them to our gymnasium where we'll be getting to know each other through games and where we'll be able to get rid of some of that remaining anxiousness and stress over our first meeting. After about forty-five minutes of this I will shake all of their hands, calling them by their names, and telling them that I'll see them tomorrow in class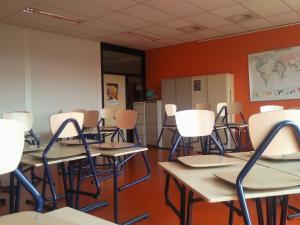 These seats will all be filled tomorrow morning.