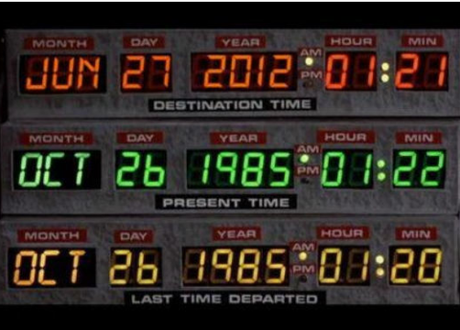 The hoax image with the wrong date from Back to the Future II
The background
Thousands of Twitter and Facebook feeds lit up with a picture yesterday announcing that it was the day that Marty McFly, in the film Back to the Future II, actually goes to when he goes to the future – 27th July 2012. The only problem is – it's a hoax. The date in the film, chosen by Doc, is October 21 2015. And, it's not the first time it happened – Total Film accidentally did a similar hoax in 2010.
"If you look at the photoshopped image the year 2012 doesn't line up correctly, JUN 27 2012 does not show up anywhere in the trilogy," said Most Watched Today.
So what's going on?
Samantha Berry on Mashable said that Steve Berry, who works for a mobile company called Simply Tap, designed the hoax image to help promote the Back to the Future trilogy Blu-ray box set. In fact, the hoax image was "a deliberate reference" to the hoax instigated by Total Film. "We promoted the image fully confident in the knowledge that everyone was familiar with the original hoax from a couple of years ago. We figured that no one would fall for the same joke twice, so the caption was deliberately replicated it word for word so people would get the reference," said Berry.
"So folks, we've got another 3 more years in which to invent that hoverboard!" said Johnmarkcole.blogspot.com
"Total MANURE!" screeched Perez Hilton. "This hoax was tried 2 years ago, but we're not falling for it! As all true BTTF fans know, the date in that picture should be Oct 26, 1985- the same date as the other clocks. … Just for "future" reference, the year that Marty travels to in Back To The Future Part 2 is 2015. Keep that in mind and you won't fall for this hoax next time."
"Will this happen again before 2015? After? Good grief, stop toying with our love of the greatest hoverboard film in cinema history!" pleaded Buzzfeed.
#PISCES: You fall for the Back to the Future hoax, because you are completely and irredeemably stupid.

— Mon-Fri Horrorscopes (@Horrorsc0pes) June 28, 2012
The real image