Happy Friday friends! I'm sure a few of you have been sending your little ones off to school this week or next but in any way, I wanted to share a few things I've picked up for my Pre-K little lady to bring with her to school for lunch, her new favorite shoes, clothing and more!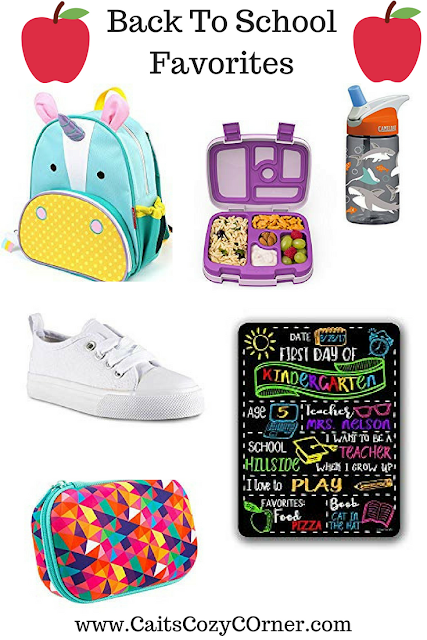 1. Backpack - Lily has been so excited for a new backpack for school. I love THIS one or THIS one because it actually reminds me of what I used to bring to school as a child.
2. Bento Box - I love anything with organization and Lily is a huge snacker rather than wanting just a sandwich for lunch. These boxes are so fun to give her various items to enjoy plus I love the machine washable compartments to allow her to choose and pick what she wants to eat. HERE is the exact one we got her but I also love that there are a few kits too.
3. Water Bottle- I've shared about these water bottles before but I can't get enough of THESE and their quality, designs and easy to pack drinks! Both my kids have them and they fit perfectly within their backpack or their carseat on the way to school.
4. Cosmetic/Pencil Bag - My children are always searching for pens, pencils, crayons and more so I grabbed this adorable bag to keep everything in one central location for them.
5. Sneakers - A comfortable shoe is key and THIS one is a great one to have your kids to wear. I personally love a good white shoe because you can pair with so many different outfits ( and they really are easier to keep clean and white than you think ).
6. Back To School Sign - It isn't true unless you take a picture of it right? How cute is THIS sign for your little ones to use as they get older and see they grow year after year.
How are you getting your children ready for back to school this year?What are some favorites you're exited to get them?