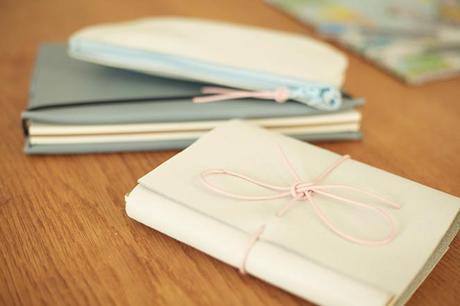 Some of you may be starting something new over the next month as September generally is the time people start getting serious again, no more summer holidays for us, boohoo. So as I myself am a stationary fiend, and to make up some lost DIY time, I'll be sharing 4 back to school super easy projects to do that will brighten up the inside of any backpack or handbag! We're talking note books and pencil cases!!
Today here are two easy DIY notebooks, next we shall tackle the pencil case!
DIY Notebook cover

You can glue this to the notebook, but I like the idea you can re-use this again and again :
1. You will need : A piece of leather or faux leather, scissors, a leather punch (alternatively you can cut the holes) and a lace or cord of your choice.
2. Cut the leather to size.

3. Punch or cut two holes horizontally.
4. Slide the lace through the holes.
DIY Map note book

1. You will need : A map or a photocopy of a map, glue, a notebook and scissors or a craft knife.
2. Cut the map to the size of the book with an extra 2 cms around the edges, trim off the corners, and make a triangle incision in the middle where the spine should be.
3. Starting on one side, glue one side of the back of the map to the note book, fold the note book shut and glue the other side down.
And there you have to super easy DIY notebooks!!
Stay on the look out for the next two (cf. the top picture!)