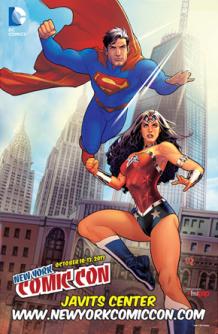 Oh hey look…the only convention I could go to this year. (so sad) And it's not even really an anime convention! It's a big, massive, conglomeration of a bunch of entertainment forms stuffed in one building. And that building is kind of not a place to have a con at right now.
…But despite that, I'm returning to New York Comic Con for…this should be the 4th or 5th straight year (too lazy to check out if this is true), and once again, I'll be covering about as many events as possible at the con. While also having some fun. I think.
Now, unlike last year though, I should have help. I say should, buttttt Sabrina has yet to notify me of her schedule, so for now, you only have mine. Not like it matters. My schedule can change for any number of reasons, so this is not very official. And there's a few on here that I haven't decided on where to go yet. But these are the few that interest me on each day. I'll find out if I'll enjoy said panels while I'm there. Anyways, if you're in need of con news, follow me on Twitter since I expect to be tweeting NYCC stuff, especially on the weekend (Thursday is pretty light). So yeah, hope everyone has some fun at the con…and doesn't get themselves in silly situations!
Friday
11:15AM: Vertical panel
12:30 PM: Sunrise panel
2:45PM: Light novel to anime/manga
3:00 PM: Kodansha Comics
4:15PM: Viz Media
5:30 PM: ANN panel
8:00 PM: Eva 3.33
Saturday
11:15AM Kodansha/Funimation
1:45 PM Wikia Live: Animanga
8:00PM Viz Anime
Sunday
11:00AM Daisuki