There is really nothing good about having back pain. Back pain gets in the way of everything you do including walking, running, and even sleeping. If you are the type who looks for a positive in every situation, you could say that getting a new mattress is the positive to having back pain.
Your personal situation and your current furniture will determine what you need to buy. If you have a waterbed, you certainly want to replace that. Not only can the waterbed be hard on your back, but getting on and off the waterbed can be just about impossible. Mattresses for back pain will be firm. You don't want a mattress that is going to bulge up and stay that way. You don't want a mattress that is going to sag over time either. A bulging mattress and a sinking mattress will do nothing to help with your back pain and you will be right back to where you started. Instead, you want a memory foam mattress. The memory foam mattresses are firm, but they mold to your body shape, providing the most back support.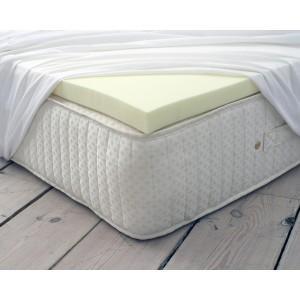 When you are shopping for a memory foam mattress, you will come across memory foam mattress toppers. Memory foam mattress toppers are a less expensive alternative to a memory foam mattress and do the same thing for your back as the mattress would. If your current mattress is not loaded with bulging or sagging spots, then a memory foam mattress topper is a viable option. You may also come across memory foam pillows. These pillows are a great accessory, especially when you have a memory foam mattress or memory foam mattress topper. Just like the mattress or the topper, the pillows will conform to your body and provide a wonderful night of sleep.