Straight from the horse's mouth: what's on at Speke Equestrian Centre, Munyonyo Speke Equestrian Centre, Munyonyo for horse riding, hacking, pony rides for children, horse riding lessons, kids' Pony Camp.
It surprises me how little leisure time Kampala residents spend next to Lake Victoria, when I know how refreshed I feel after just an hour or two by its waters.You can't beat the feeling of space you have by the lake which is why, if you're looking for a new hobby or a day out, I highly recommend some time out at Speke Resort, Munyonyo - ideally on a horse at the Equestrian Centre! High on my bucket list of once-in-a-lifetime adventures is doing a multi-day horseback safari. I used to ride when I was a teenager but I know I need to invest in some more riding lessons before I embark on such a big adventure. My recent stay at Speke Resort - and the smell of the horses! - has really whet my appetite for that bigger endeavour.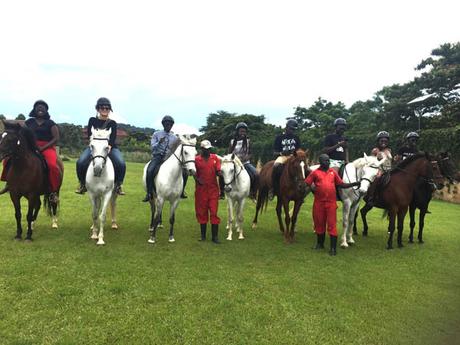 Prices start from 40k ugx for a 20 minute pony ride. A one-hour hack (for experienced riders) is 70k every day (except Sunday and public holidays when it costs 80k). Rates are slightly higher on Sundays and public holidays. Private or group lessons offer good value for money. Packages of ten lessons are also available. For all horse riding prices, please check here.
In conversation with one of the staff at the Equestrian Centre, he explained that they currently have nine ponies and five large horses suitable for adults. They are expecting to acquire another four horses over the coming months.
In addition to the horses and equestrian facilities, the centre also has a bar where parents and friends can meet for a drink while Little Johnny is learning to ride.
Have you heard about the Kid's Pony Camp at Speke Equestrian Centre?
The Pony Camp at Speke Equestrian Centre is a two-day event training kids how to ride ponies. Children between the ages of 4 and 17 are invited to enroll for the monthly Pony Camp that's been taking place at Speke Resort Munyonyo since 2015.
Saturday morning is a riding session. No experience is necessary as children are grouped into beginners, intermediate or advanced riders. In the afternoon, the children go swimming in the resort's Olympic size pool. On Sunday morning, children are treated to a full breakfast at the resort, followed by a morning ride. Pony Camp finishes at 12.30 with a small prize-giving and Certificates of Participation. There are prizes for the weekend's best participants: the top two riders get medals, and the third placed rider is awarded a Best Camper Certificate.
Pony Camps costs 100,000 Uganda shillings for the two days. This includes an overnight stay at the accommodation block (in separate boys and girls rooms) next to the Equestrian Centre. (Parents who live nearby may wish to take their kids home for the night and bring them back the next morning). The Sunday breakfast is included in the cost. (Parents are expected to cater for the kids' other meals).
Have you checked out Speke Resort recently?
Not only is it well-equipped for conferences and large meetings, Speke has a range of weekend activities. On Sunday afternoons at Speke Resort from around 3 PM, you can enjoy a DJ and live band, or acrobats and a market for an entry fee of just 5,000 Uganda shillings per person. Friday night is band night at Lake Terrace and complimentary to guests and everyone eating at the restaurant. Saturdays are frequently busy with weddings and wedding parties. Read Olive's blog #MarryMeAtMunyonyo - Getting Married At Speke Resort, Munyonyo.
The resort's swimming pool, gym, sauna and steam are a haven for Kampala residents throughout the weekend. Entry is 40,000 ugx for a full day's swimming (and all-important lounging!)
Why not make a whole weekend of it?
Speke Resort's weekend package is $180 full board (excluding taxes) for two people sharing and includes all the above activities and more: a half hour boat cruise and a 10 minute horse ride for children. Bed and breakfast and room only weekend rates are also available, visit the Speke Resort site for all tariffs.
Interested in more boating options and the marina? Read Evelyn's blog Chasing Sunsets at Speke Resort Munyonyo for the lowdown on activities on Lake Victoria.
Prefer a round of golf? Guests staying at Speke Resort can get a preferential rates at Lake Victoria Serena Hotel's golf course, a short drive from Munyonyo thanks to the opening of the Entebbe Expressway.
For info on any of the above, call +256 (0)414227111 or (0)417 716000 or email [email protected] or [email protected]
And finally, when you visit the resort, perhaps you'll see me learning how to ride again, practicing for my next big African adventure - on horseback!
" 17 must-try experiences in Mombasa! "I saw things" Nyege Nyege Festival "
Related posts