Deep in planning mode and having fun…
I've been completely swamped with a full workload this week and last (my sincere apologies for being a tad MIA — bear with me!), but in between it all, I've been preparing to host a baby shower for my sister-in-law next weekend. I thought I'd share my board for the party planning, clearly taking inspiration from their gray/white/orange nursery scheme.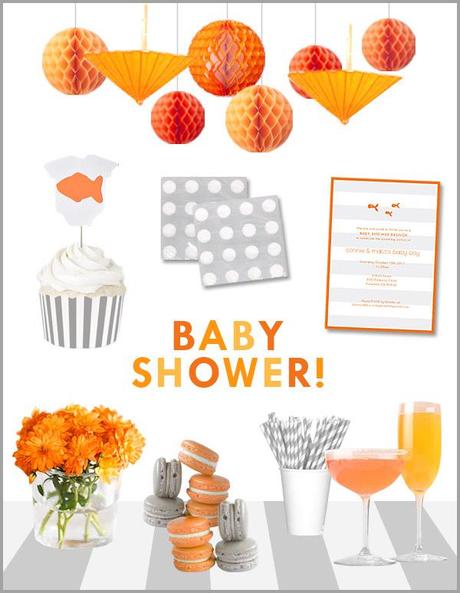 Tissue paper poufs and parasols: Shop Sweet Lulu
Fish onesie cupcake toppers: Amy Dot Designs (Etsy)
Gray/white striped cupcake wrappers: Olivia's Paper Shoppe (Etsy)
Gray polka dot cocktail napkins: Target
Gray/white striped straws: Cupcake Social (Etsy)
We'll definitely need simple arrangements of orange mums, as well as grapefruit mimosas, and recently discovered Earl Grey and Salted Caramel macarons from a local bakery. Yum.
I'm getting pumped! Ok, ok, that's enough fun…back to work.