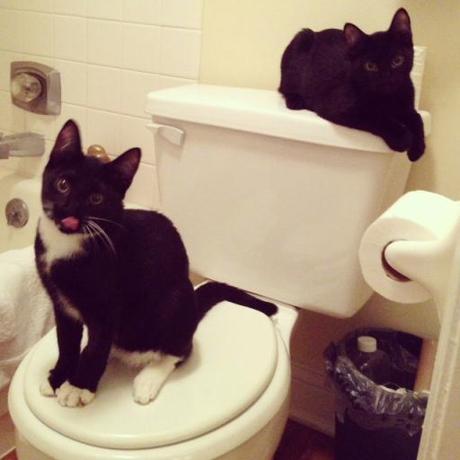 The kittens are six months old today which means I have spent the last six months taking pictures of them like the dedicated cat lady that I am. I have a lot of pictures. Some are good. Most are blurry. Getting two kittens to sit still is difficult since they are super busy these days. I take what I can get which often means I end up with a picture of them lounging on a toilet. So be it. I can't believe how big they've already gotten since they first came into my life and I look forward to seeing them grow into adult cats. The years ahead as a cat parent hold soccer games, proms, and graduations. Ah, they grow up so fast!
While I'm walking down memory lane, here are some things I've learned along the way:
1. The sound of the fridge door opening is music to a cat's eat.
2. Some cats will eat literally anything including peaches, corn, chickpeas, tomatoes, and pineapple. Other cats will only eat one certain flavor of canned salmon.
3. Cats can learn dog tricks pretty easily like "speak," "high five," and "roll over." Whether or not they feel like doing any of the tricks at any given time depends entirely on their mood.
4. Boxes and paper bags are more entertaining than any cat toy on the market currently.
5. Human feet and ankles are objects that must be attacked at all times. No exceptions.
Happy 1/2 birthday boys!