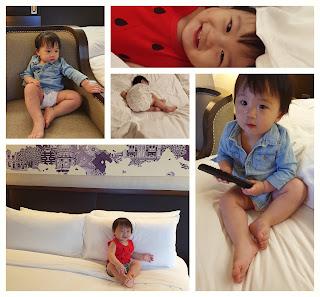 I did think quite long and hard before finally deciding to risk it and bring the family for a staycation. At this point, the Covid situation was worsening and we could only dine in 2s. Back in June, we couldn't even dine outdoors and we thought it would be lame to go ahead with the staycation so we postponed it. 
Initially, we were supposed to stay in Sofitel @ City Centre. However, as they became a Stay-Home Notice Dedicated Facility, we were moved to Fairmont Singapore instead. I was quite impressed by their honesty (which gave me a bit of faith in the measures that they would put in place) so I decided to go ahead. Upon reaching, I realised Fairmont was an approved hotel for the Green Lane Passengers when I spotted people in PPE. I admitted I freaked out a bit and wanted to take a cab back but the taxi driver being highly efficient had unloaded my luggage.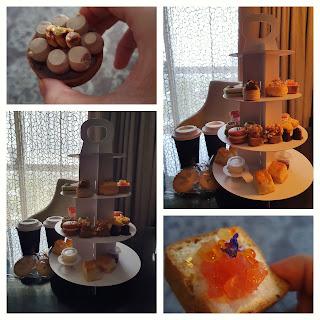 To be honest, the first day at the Fairmont didn't go well. During the weekends, the restrictions changed so the operations teams probably couldn't react too. My booking was apparently not transferred properly. They got my name wrong and addressed in the wrong salutation too. The complimentary dinner was no longer part of the package (sad), but since we were in town there were quite a lot of good food around so the Hubs told me look on the bright side and not let this affect my mood for the next few days. 
Since we can't dine out as a family, we decided to have our meals in our room. They had this online ordering system. But somehow, it wasn't working very well and I had to call in to make my orders. They also got my orders wrong (I think) and we ended up with Antidote's high tea (around $90 for hotel guests). I have to say this was the best high tea I ever had. It was so good that it made my day literally (and after that, everything just got better too!)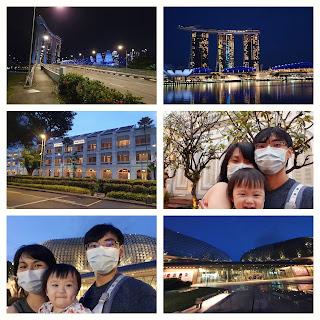 Our plan was to use our staycation as a base to explore the other areas. The CBD area was like a ghost town and I managed to take many nice scenic shots. (Nobody in sight!) It is kinda of surreal and sad at the same time. But it was quite safe for baby because of the lack of crowd. Fairmont is at quite a nice location so we could take a nice stroll to most of the nice attractions - Gardens by the Bay (read about our experience here!), Esplanade, Chjimes.
Although it was a staycation, it did feel a bit like we went overseas haha. Nice food around their vicinity (if you are not into room service) includes - Hvala, Senor Taco, Wooloomooloo steakhouse etc. Yums.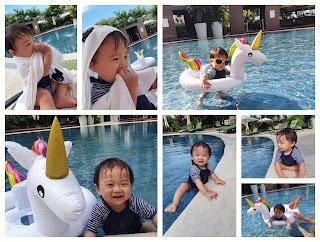 One of the highlight for any kid (if you don't stay in a condo) is probably the pool. Not only did I bring our own unicorn float, I also brought his shades along. The pump ($25) and float ($20) (both from Baby Spa) took a good 25% of our luggage. In fact the husband and baby's stuff took a good 60%. For the first time, I packed very very light. Baby was decked cutely in the Short Sleeve Rashie Set ($51.90) from The Baby Closet. (First time and probably last time wearing cos he grows big so so fast!)
We were initially quite hesitant to bring him to the pool but according to my husband, Covid doesn't spread at the pool. Also, you had to book for a slot at Fairmont. So at any one time, there were a max. of 2 families at the different ends of the pool (non-heated by the way). You could also only swim in 2s, hence I was the official photographer. Cute towel is from Cheekaboo.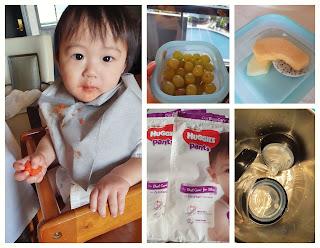 Thought we will end with some quick tips for parents who are planning to bring their kids for a staycation as well. We did prepare food for the baby - mainly fruits. He also shared our fruit platter for breakfast. For the sterilizing of bottles, we brought our own tingkat (yes, you didn't hear us wrong) and poured boiling hot water in it to do it the traditional, portable manner (haha).
By the way, room cleaning is only on request. So thank god, I brought along my zip-lock samples packets for baby's soiled diapers. Locked the stench in and kept our room fresh throughout the whole stay. My favorite collapsible snack container ($19.90) from itots was also very useful for acting as a bowl for baby or a container when on the go!***For  Baby Spa products and services, quote "Chaa10" to get 10% off. For Cheekaboo products, quote "CHAAYEN20" and you can get 20% off! Valid until 31 Dec 2021.