Found some old photos in the phone as I was transferring them out and decided to do a post on this since I did research a bit to come out with this. These "cookies" are suitable for babies around 8-9 months. It dissolves in their mouths and doesn't contain any eggs/ flour. I came out with this because the kiddo grew out of the Gerber oats at that point and I had so many spare bottles. :'(
It is really easy to make and I usually prepare and bake them when the toddler went for his 1.5 hour nap. Usually I add in red dates to enhance some sweetness, but you can add in banana, carrots or cheese, depending on what your child has tried and has no allergy to.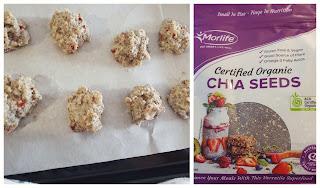 Use 1 serving of Gerber Oats to 1 serving of chia seeds (the chia seeds is to replace the flour to help to the cookies stick together and keep its shape. We used chia seeds because they were power food and is really good for our body.)
The amount of water to add would depends. You just need enough water for the ingredients to stick together and form the shape. But not too moist. 
Put tiny lumps on baking paper and bake it for 10-12 minutes at 350 degrees Fahrenheit. You can butter them to prevent them from sticking. But I was avoiding butter at that time so I would lick those that stuck to the bottom myself. 
Store excess in the fridge and try to finish them within a week. 
The texture is gooey and it breaks apart when you "munch" on them. Our kid used to love eating it and I would experiment different flavours for him. Hope you parents enjoy this little baking recipe.