I am fortunate that I don't have to worry about the safety of formula at this point. My youngest is two-years-old. This is a scary situation for a lot of parents. Is the death of a baby from bacteria that may have been in the formula reason enough to change your baby's formula? I have heard it's a big deal to change the formula and it takes awhile for the baby to get used to a new brand. So let me know, would you or have you change your formula brand due to the bacteria scare with Enfamil? Here's some background in case you haven't heard this story yet.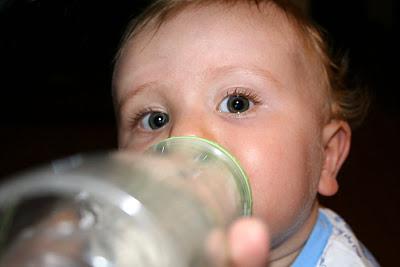 FROM CNN:
The manufacturer of the widely used baby formula Enfamil said Sunday that its testing shows the product is free of the bacteria blamed for the death of a Missouri infant.
Mead Johnson Nutrition said two tests of samples of its Enfamil Premium Newborn formula found no sign of the bacteria, known as Cronobacter sakazakii.
The samples tested were taken from the same lot as the formula given to the baby boy who died, the company said.

The Missouri case prompted retail giant Walmart to pull all cans of the same size and lot number from its shelves last week. Another newborn baby was sickened in Illinois but is recovering from the infection, according to the state health department.
The agencies are reviewing information about each newborn, including what they ate and where they were, in an effort to trace the sources of the infections.

Cronobacter can cause life-threatening infections in newborns. It's fatal in nearly 40% of cases, according to the CDC, and some of those who survive can be left with severe neurological problems.
-NewsAnchorMom Jen
Skin Dimensions, SB products are manufactured with Pharmaceutical-Grade ingredients. Products are not just "Feel Good Products," as they contain unique and innovative ingredients in concentrations that can assist you in the achievement of your own personal skincare objectives. Our products contain higher percentages of Glycolic, Vitamin A, C, E, Co-Q10, green tea than what you can usually purchase over the counter.