Baby Corn Manchurian Recipe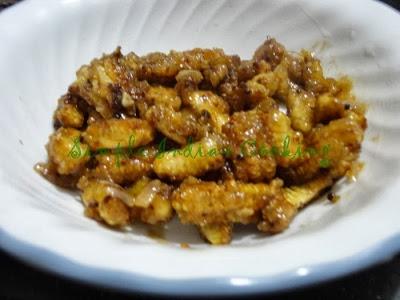 Hi Everyone,
After a long time I am back with a healthy and mouthwatering recipe. I love Chinese and with Indian touch its simply irresistible. You must have eaten this at restaurants and wanted to make them at home. I always make it at home and my family loves it. You can make it even more healthy by using olive oil for frying and adding besan to the batter. I have used Sezwaan sauce here instead of red chilly powder you can use as per your taste. my family is not found of capsicum so I have not put in while making this but it is included in the recipe.
Prep time: 15 minutes
Cook time: 20 minutes
Serves: 3-4
Ingredients: -
Baby corn – 10-12
Oil – For deep
For batter:
Maida/all purpose flour – 4 tblsp
Besan – 4 tblsp
Corn flour – 2 tblsp
Ginger garlic paste – 1 tsp
Sezwaan sauce – 1 tsp (optional)
Salt – As per taste
Water – As needed
For gravy:
Garlic – 4-5pods crushed
Green chillies (optional) – 2 crushed with garlic
Onion – 1 medium and chopped
Capsicum – 1 medium and cut into chunks
Spring onion – 1/4 bunch (greens chopped)
White pepper powder – 1 tsp
Mustard seeds – 1 tsp
Oil – 1 tblsp
Chilli sauce – 1 tsp
Tomato sauce – 2 tsp
Sezwaan sauce – 1 tsp
Soya sauce – 2 tsp ( Use more if u need)
Corn flour – 1 tsp
Salt – As per taste
Water – 1/4 cup
Method: -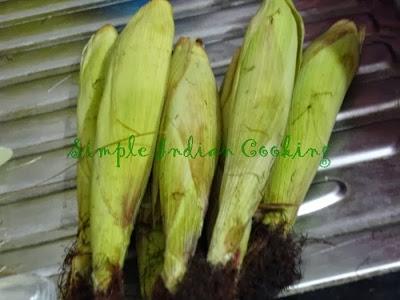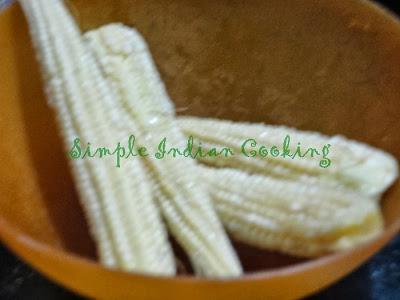 Mix all the ingredients of batter to make a thick batter of pakora.
Prepare baby corn by peeling the skin and cutting each in quarters.
Heat oil in a heavy bottom pan/ kadai and coat each pieces of baby corn with the batter.
Leave the baby corns coated with the batter in hot oil and deep fry till golden brown.
Heat oil in another kadai or pan to make gravy and add mustard seeds.
Add crushed garlic and green chilly, bring the heat to medium and fry a little.
Add chopped onions and fry till it becomes transparent and add capsicum.
Fry for some time and add all the sauces to it and a little salt.
Add corn flour dissolved in water to make a thick gravy.
Keep the heat full and bring the gravy to boil.
The gravy will start to become thick and keep the flame to low.
Add the baby corns to the gravy and mix well.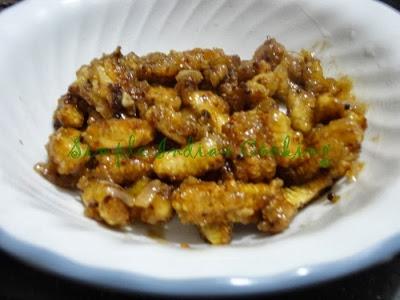 Switch off the gas and top it with chopped spring onions.
Serve with rice or roti.