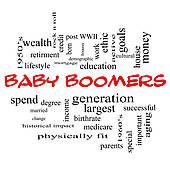 Would you believe it? Yesterday was the official Baby Boomer Recognition Day. As if Boomers need one particular day to be feted. At over 75 million strong, this generation has been in the forefront of the news ever since their beginning in 1946. With the last of the Boomers turning 50 this year, they have now, in fact, all become the AARP generation. As the largest cohort of Americans, Boomers have set the tone for so many of our cultural trends and historical mores.
But these days Boomers are facing distinctive challenges. If you're part of this group yourself, here are some issues that may be on your agenda – with resources from our website that can help you cope.
Sandwiched Boomers. As part of the Sandwich Generation, many of you are struggling with the duties of caring for aging parents while still raising your own children. You may have put your retirement plans on hold as you pitch in to help your mom and dad or fund your kids' college expenses. Set aside time to nurture yourself and reduce the stresses you deal with every day.
Changing Times. After vowing to "never trust anyone over thirty" and living through the turbulent 60′s, Civil Rights movement, Vietnam War and rise of feminism, Boomers are reluctant to step into the background. To shape your relevance today, you may look in new directions for examples of goal setting and achieving meaning in life.
Healthy Aging. As folks used to accomplishing anything the set their minds to, Boomers are now up against the realities of preserving healthy bodies and healthy minds. Want a role model? Well into her 90′s, actress Betty White is the poster child for aging without growing old. When you cultivate a positive attitude, you too can throw out the calendar and enjoy your age, whatever it is.
Boomerang Kids. With the current financial downturn, many younger Boomer parents are now hosting their Millennial children who have moved back home. With unemployment rates soaring for the under-25 set, record numbers of recent college grads have re-populated the empty nest. These new living arrangements can be difficult for everyone but when you set ground rules and expectations, you can make it a constructive time for your family.
As Boomers you've long lost the Baby portion of your name, but there's no need to forgo the Boom. Enjoy the blast you make by soaring forward and thrive in the next stage of life.