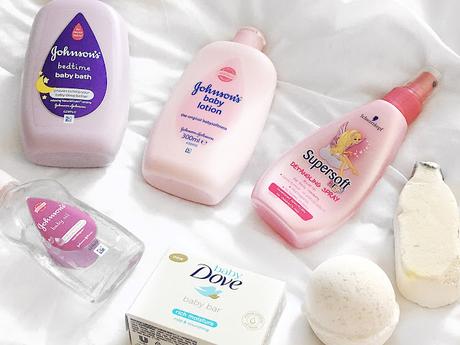 There's many things in life that I don't have, two of them being (opposite to sensitive) skin and a baby. Despite the latter however, I've become a bit of a hoarder of baby products. In particular beauty and skincare.  I've spent years splashing out on various lotions, potions and cosmetics that claim to be designed for sensitive skin and I still would always break out into the most horrible of rashes.I'm not quite sure how I came to this brainwave, but all of a sudden it hit me. What's more sensitive than baby skin? So off I trotted to my local boots and Lush, in search of bits and pieces that would both do their jobs and not make my skin feel so itchy and blotchy.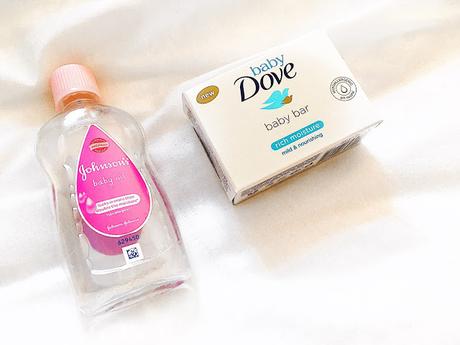 Due to having extremely sensitive skin; so much so that I'm actually allergic to tea tree; I tend to find shaving a nightmare. I can't even begin to tell you how many creams, sprays or hair removal creams I've tested over the years that have left me with incredibly irritated skin and not much actually being shaved. I switched over to baby oil on a whim after reading about it on Tumblr of all places and since then I've never looked back. My legs, etc. Are left feeling silky smooth, all hair removed with minimal razor cuts or burns. Most importantly of all, no nasty rashes or reactions. I also find that the razors themselves are much easier to clean when not coated in thick cream or lotion.
You'd think that a plain old bar of soap wouldn't be such a problem, right? Wrong. Oh, so very sadly wrong. In truth, it's not so much the soap that's the issue but the giant scar under my right armpit (it's a long story.) I was finding that whenever I used a perfumed soap; something that we seem to have multiplies of in our house; the scar and tissue around it would feel like it was on fire. Major ouch. Making the move to baby soap seems to have done the trick. It also is pretty nifty at leaving my hands nice and soft too.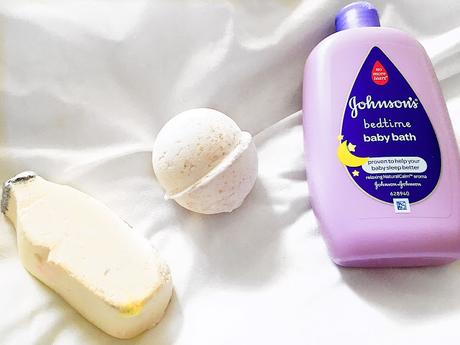 When I spent my Christmas at Lush, I fell head over heels in love with these two little bath time gems. I'm sure you've heard of them, but for those who haven't I'll give you a quick run through. Both created with sensitive and baby skin in mind, the Butter Ball bath bomb and Milky Bar bubble bar are made with soft cocoa butter and a smidgen of ylang ylang to give it a sweet powdery scent. Both leave the bath water incredibly soft and are completely free of harsh chemicals, just like all things Lush.
There's hundreds of bubble baths out there on the market, all claiming to be soothing and chemical free. That may well be but none of them seem to be right for me. I've been using Johnson's Bedtime Baby Bath for a good six months now and I must have gone through at least seven or eight bottles already. It has the most wonderfully calming lavender scent and lathers up the biggest bubbles. A little goes a long way with this one too which is a major bonus.
Much like the baby bath, I've become a sucker for Johnson's baby lotion. Firstly, there's something about that signature powdery scent that makes you feel all warm and cosy. Like being wrapped up in a fluffy towel after a nice bath or snuggling into bed. I love how it doesn't leave my skin feeling oily and soaks in within a matter of minutes.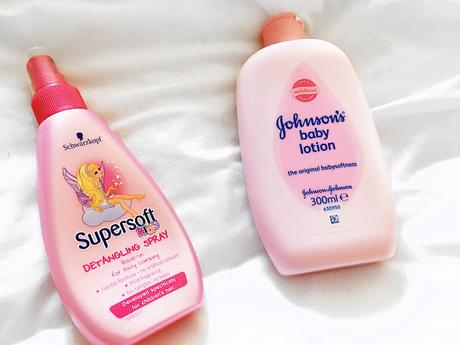 Lastly is the one hair care staple that I couldn't be without. My hair likes to tangle itself up so much that some days, even a tangle teaser can't comb through the knots. This is usually around the time I break out the detangling spray. Despite being designed for children it does the job perfectly and after a few sprits of strawberry scented goodness I can run a brush through my hair without yanking half of it out.
I can't recommend these little treasures highly enough, so if you try any out; or have a few of your own, I'd love to hear about it.
Thanks for reading, love Jade x