Anthony's Restaurant Rating:
82/100 X
Welcoming:9/10 Menu Choices: 7/10 Food Presentation: 8/10
Food Temperature: 9/10 Food Taste: 18/20 Service: 7/10
Ambiance/Music: 7/10 Architecture/Interior: 9/10 Air Quality: 8/10
Total: 82/100

More about:
Babel Bahr
Babel Bahr, a new name added to the family of Babel restaurants across Lebanon. I think by now many of you have already encountered my infatuation and appreciation towards Babel Restaurant. I have been to both Babel Dbayeh and Babel Bay, where I have enjoyed and tasted signature dishes unique to each… now it was time to try its new location. Luckily I was one of the first to try its new grand location in Amchit. I am so excited to share the experience I had in this impressive lighthouse.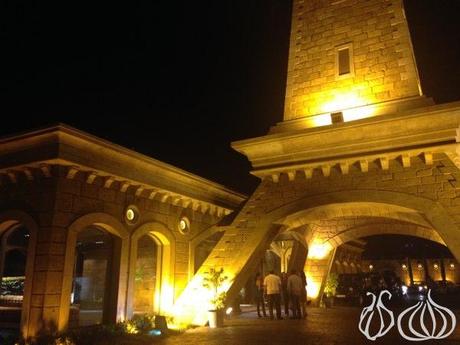 Yes, an impressive lighthouse with a unique grandiose setup nestled on Amchit's seashores. It will attract your attention from several kilometres away. Reach Amchit, and then take the sea road to continue towards Tripoli, where 50 meters upfront you take a sharp left towards Mhanna sur Mer and camping Amchit. All you have to do is follow the lighthouse to reach Babel Bahr.
Babel Bahr, spelled bab el baher (the door to the sea) in Arabic, is the new Babel venue serving a wide selection of seafood in a new revisited and different way. When you go to this one don't expect anything like the one at Zaitunay Bay or even the one in Dbayeh, but something new never seen before in Lebanon.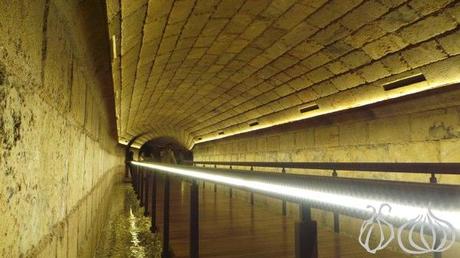 The place is grandiose: A extremely unique architecture:
Approaching Amchit, you will spot the lighthouse from the main road
The lighthouse is so grandiose, even bigger than the famous one in Beirut: Maybe more than 40 meters long
A huge and grandiose entrance makes you wonder what's hidden inside
The entrance is located to the right under the stone arcade
On the left you can see the dining building above the sea
The parking appears after the arcade with a yellow lighting and some impressive stones covering the walls
Stones are everywhere, the same ones used in Dbayeh and Zaitunay Bay: A luxurious setup indeed
A sculpture next to the entrance surrounded by a sofa
Flowers delimitate the stairs
And here starts the journey under the road to the main dining area next to the seashores
Walk down two floors on stone stairs decorated with a ceiling of shining stars
When you reach the wood floor, know that the journey has approached to an end
An impressive long tunnel of stone arcade over a water passage
At the end, to the right is the fish display before reaching the dining space
A reflective stone flooring decorates the dining space
The main building is close to Babel Zaitunay Bay with metal frame work and led stars shining from above
To the right a long bar with a mirror which makes it look twice the size
Some interesting things to know:
Claude Abi Saad, the architect and partner loves sand stones which he has used in all locations
Babel has been created to make you live the castle experience from beginning to end
No, Babel is not an Iraqi restaurant. Babel as of the castle only
A monumental place, an experience, a journey… The concept is built around a dream journey. Much more than a simple dinner
The signature items differ from one Babel to the other, but the original plates are the same everywhere
Tabbouleh is a signature dish you should try
The place's different sections:
A sunset bar with lounges which can host of to 60 persons
30 persons can be seated on the first floor overlooking the sea and entrance
The main area can host up to 120 persons
80 persons can enjoy the terrace on cool days
Built on the seashores, Babel welcomes you for a swim
By boat or by car, reaching Babel is easy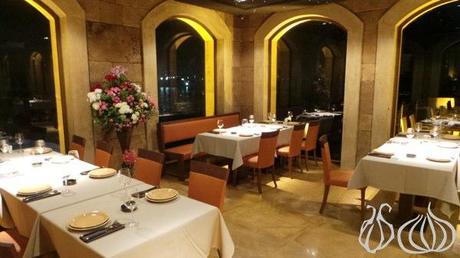 The experience starts from the very first minute you park in front of the entrance. A welcoming valet service not found much around the country. Afterwards, a mature host welcomes you before asking one of the two hostesses to accompany you to your table. Expect a 50 meters walk before you reach the main dining area. But the walk will prepare your senses to enjoy a grand experience…
Let the experience begin:
A simple table covered with thick beige fabrics, two plates and metallic cutlery. Light thin wine glasses used for water
Dinner started with a basket of warm bread "tlameh" (olives, nature, cuttlefish)
Green olives
A special signature dip: Eggplant, spices, coriander sauce and olive oil
Premium peanuts mix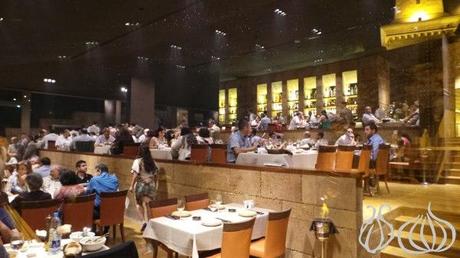 The little details I loved:
The Arak cups are amazing. A middle sized cup – between the small and long drinks. You enjoy your drink calmly without having to refill every minute
I like the Arak carafe: Classy
The service is close to perfect. Every single member of staff is "more than" attentive and willing to make your night memorable as well as answer every question: Can we remove the "more than"? Please don't over do it
The plates are generous and the presentation appetizing
An olive oil bottle, a pepper mill and a glass bucket are available on every table
The air conditioning system is very good absorbing all smoke smell
Arak Babel is delicious with no after effects the next day
The toilets are very well designed and clean. Not a single detail is left unattended to
We enjoyed some unique creations: Food is tasty
Tabboulet el Bahhar: The normal tabbouleh without bulgar wheat (borghol) but christmas wheat, shrimps and coriander. In this salad, you won't feel the crunchiness of the borghol but a pleasant sponginess of the wheat. A lemony seasoning and a nice feel of the parsley. Shrimps, cut in cubes add the magic that makes this salad special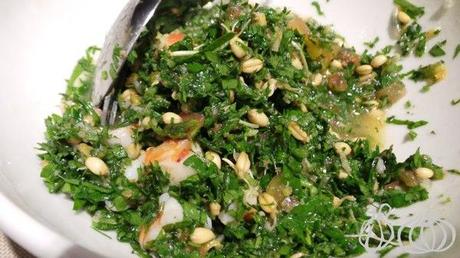 Kebbet Samak Frakeh: No meat is used, only pure fish. The mix has the same color as the normal kebbe, provided by the borghol. It is less sticky than the normal kebbe with a taste that has nothing to do with our national treasure. Served with a colorful mix of capsicum and green onions on the side, the plate looks beautiful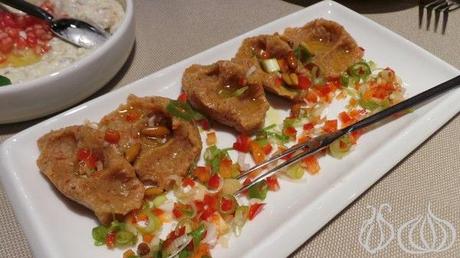 Tajen Samak: Warm, soft and tender without a strong taste of the tahina and an after taste of fish. Covered with grilled pine nuts and fried bread on the side. Babel uses these thinly sliced fried bread as decoration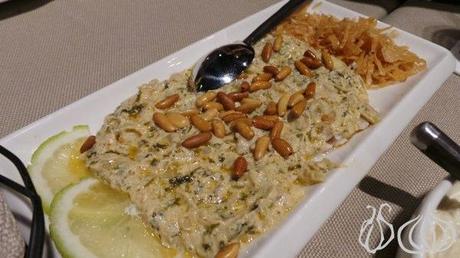 Fattouch: This is a good one. The normal fattouch with a couple of "be2je". Bread, filled with octopus, shrimps and calamari is wrapped like picnic bag we have seen in old movies, then deep-fried. This is something new Babel has added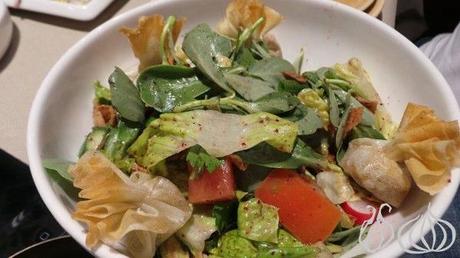 Hendbeh and Calamari: Hindbeh, mixed with grilled calamari in an orange sauc Super yummy!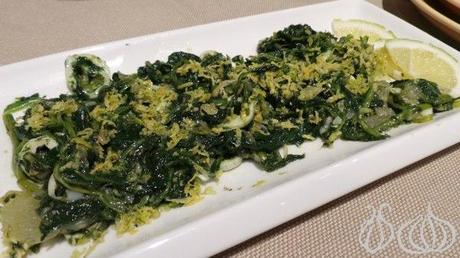 Mtabbal: The normal unsophisticated one prepared to perfection and decorated with pomegranate and basil leaves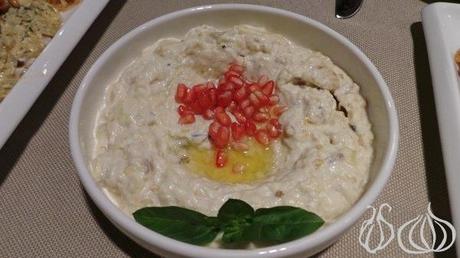 Chard with Fish (Sele2 Samak): Chard mixed with tahina and covered with grilled fish and pine nuts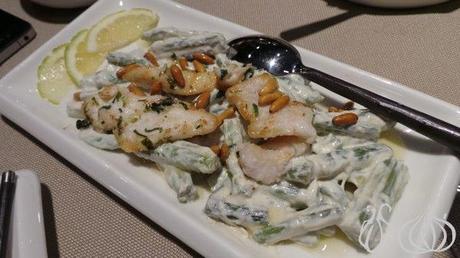 Batata Mahrousse with Abou Senn: Mashed potatoes mixed with fish. I loved the colors (radish, onions, olives) and different textures of onions. The radish adds a hint of sweetness to the mix making it unique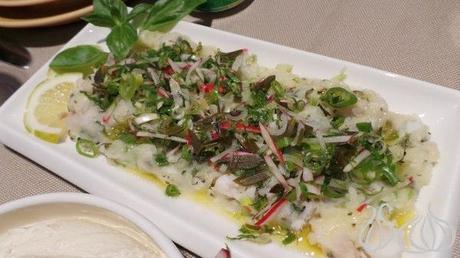 Hummus: Very nice! The normal version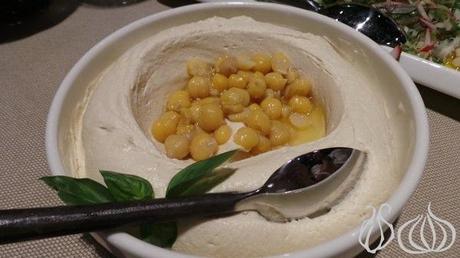 Octopus Provençal: Simply awesome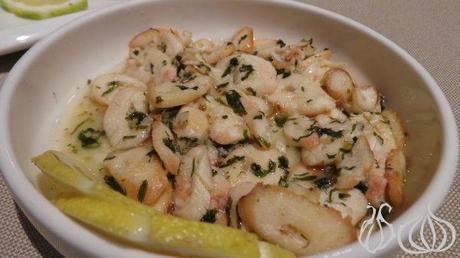 Fattet Bizri: Like the shrimps fatteh of Babel Bay, Babel raises the bar even higher and dares to mix fish and Laban. What is known around the country to be potentially poisonous is a superb dish. Laban is hard as cream with crispy fresh fried fish and bread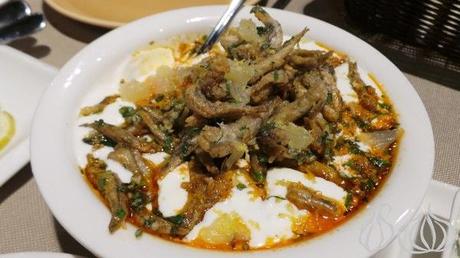 Fresh Calamari: One of the best seafood plates I've ever eaten. Real fresh calamari, prepared, breaded and fried in-house. A must try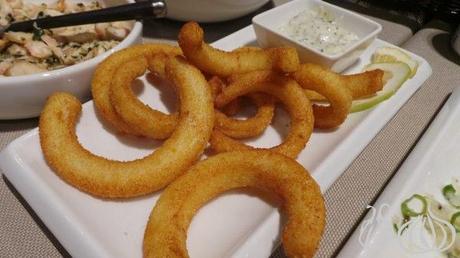 Shawarma Fish: It really feels like shawarma. Imagine eating a fish shawarma, with the same texture and feel of a chicken falafel. Chunks of fish enjoyed to the maximum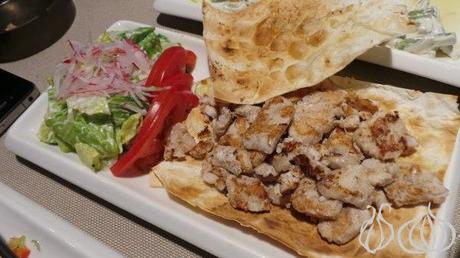 Kebbe Sayniye Samak: I like that. A creative creation. Cheese, fish and seasonings in a kebbe envelop. Simply wow!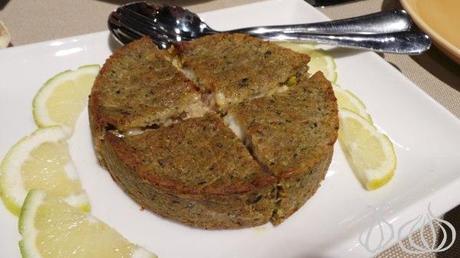 Mallifa and farride: After finishing the appetizers, two kinds of fried fish were served which I ate as is. Delicious!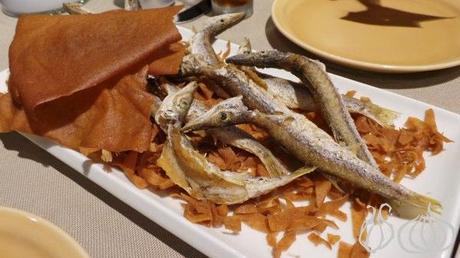 The Food is really unique, delicious, creative… Superb to say the least
The things I didn't like… I would definitely change:
Add items without fish to the menu. One of my friends doesn't eat fish: She unfortunately just ate some fattouch. I think you should reconsider this issue
The waiters' costumes are bad: They do not fit the overall aspect of the place and their colors are too dull. Costumes, table-cloths and walls have the same color. Too much earth colors that gives a certain claustrophobic effect. I would change the costumes actually and not just the color to make them more appealing
The way the tables are setup one parallel to the other make the place look like a cafeteria
The waiters over do it. They are overwhelming. They want to make you eat everything even when you tell them that you don't. Thank you for serving and taking care of us… Just know where and when to stop
Desserts: The big deception
Jazariyeh (Halawa covered with carrots and nuts): Too watery, too sweet and not tasty
Jams (are3, figs, bosphere, dates): Some are too sweet, others are too chewy. These are also not as wished they would be…
I was expecting the best desserts ever, considering that Babel serves them in Dbayeh and Zaitunay Bay but I didn't find any here. Dinner ended with a wet warm towel and a selection of fruits offered.
I loved this place although I felt like I have overdosed on fish and maybe grew some fins…  I would have liked some diversity in enjoying some plates without fish as an ingredient. I was annoyed by people smoking and was disappointed with the desserts… But never the less I can't deny the fact that the food is unique on all levels and a must try for all. Make it a point to visit Babel Bahr this weekend and live this journey inside the caves of the lighthouse.
























Pages  [
1
]  [ 2 ]  [ 3 ]  [ 4 ]  [ 5 ]