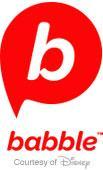 According to a report in Geek.com, Google is considering a plan to unifying all their messaging platforms into a single service, which is expected to be called Babble.
Geek.com says that Google Talk, Hangout, Voice, Messenger, Chat for Drive collaboration, and the Google Talk for G+ will all be rolled into a Babble.
On the domain name front, Babble.com is owned by Babble Media, Inc. of New York
There also seems to be at least one trademark on the term Babble by a Herman Miller, Inc. of Michigan although Babble.com logo, seems to make reference with a thanks to Disney by the trademark symbol on its Babble site.
For the millions who as seekingalpha.com suggests will be doing a lot of babbling in the future, we are happy to report that our company, Worldwide Media, Inc., the publisher of TheDomains.com is the owner of Babbling.com.
 …