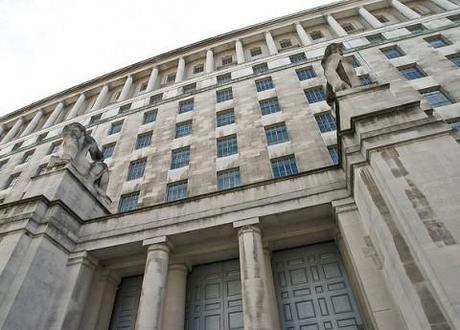 Ministry of Defence HQ, Whitehall, London. Photo credit: Pixelhut

A damning report has found that "violent and cowardly abuse" by 19 British soldiers lead to the death in 2003 of Baha Mousa, an innocent Iraqi detainee. The head of the army, General Sir Peter Wall, said that Mousa's death had cast a "dark shadow" over the reputation of the entire armed forces.
Regulations set in 1972 to prevent the "conditioning" of subjects by methods such as hooding had been "largely forgotten" by the Ministry of Defence, according to the report by retired court appeal judge Sir William Gage, who said that "all the guards" at the Basra facility "must have realised that the treatment of the detainees was wrong."  Mousa sustained 93 separate injuries before his death. Mousa's only crime – according to The Independent journalist Robert Fisk – was to have witnessed British soldiers raiding the safe of the hotel where he worked as a receptionist.
What effect will the "British Abu Ghraib" have on the military?
Not just bad apples. Baha Mousa's solicitor Phil Shiner, writing in The Guardian, has urged the British public not to accept that the disgraceful behaviour of 1st Battalion The Queen's Lancashire Regiment as an extreme perversion, or just the work of a "few bad apples." Shiner is acting on behalf of 150 other Iraqis in a case being heard next month where the argument will be made that there should be an enquiry in the entire UK detention policy. MOD policy will only be superficially altered in response to the Mousa report. "It will continue to hide damaging documents, mislead our courts, run unworthy legal arguments and use its mighty coercive power to keep the public in the dark," argued Shiner.
Few rogue elements. Frederick Forsyth, a columnist for The Daily Express, objected to adverts placed in two defence magazines, Soldier and Sixth Sense, that encourage informers to anonymously denounce former colleagues who may have engaged in torture of civilians. He concluded: "Our Armed Forces do not brutalise civilians save in rare cases that the Military Police investigate." Forsyth's few bad apples analysis was sort of supported by the Gage inquiry's conclusion that "an entrenched culture of violence in the [British] battlegroup" has not been uncovered.
What's going to change? Gage's report has outlined 73 measures for change. Included are requirements that detainees have a medical within four hours after capture, and that the military understand they can be prosecuted for the use of hooding, white noise, wall-standing, and sleep deprivation. "Harshing" – intense bursts of shouting abuse at prisoners – will still be allowed as it has proved vital in gaining intelligence.