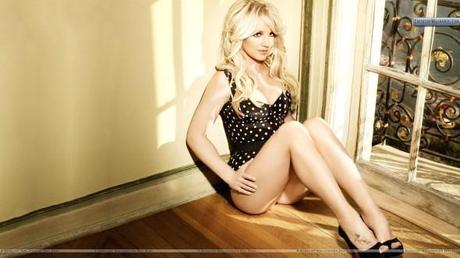 Photo Courtesy: xdesktopwallpapers.com
You all remember the shakeup of the judges table on "The X Factor" right? Basically, creator/judge Simon Cowell gave Paula Abdul and Nicole Scherzinger the boot. Nicole's beautiful hair and Paula's crazy weren't bringing in enough ratings.
Now with two spots open…Cowell has been (allegedly) charming such stars as Katy Perry, Janet Jackson, Pink, Avril Lavigne and the legendary Miss Britney Spears to hop onboard.
It's now being reported that Spears is nearing a deal to officially sign on to judge the singing competition show. Her fiancée, Jason Trawick, is negotiating the deal and a contract could be signed as early as next week…[Insert scream here].
According to Billboard.com, "To prepare for the seat alongside judges Cowell and Epic Records chairman L.A. Reid, Spears is undergoing extensive media training."
I'm picturing my spiritual goddess sitting in a judges chair, Cowell is spinning her around at an extremely high speed while blowing a whistle in her face and L.A Reid constantly screams "Who are you?" while the pop star calmly replies "It's Britney, Bitch."
I'll be honest, I didn't watch "The X Factor" last season, but if Spears signs on…I won't be blinking for the entire time the show is on…including commercial breaks.