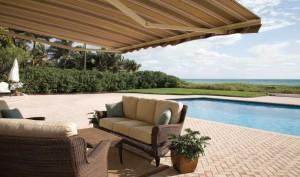 An awning over a doorway or entry way is great to have any time of year. In the winter, it can prevent the buildup of snow and ice that can be annoying, slippery and dangerous. In the spring and summer, it will give you a nice place to stand in the dry out of the rain while you unlock and open the door. It will also help to keep your welcome mat dry, making it easier to wipe off your feet before you enter.
An awning over the door can keep out the wet and dirt that damage the floors. Carpets and hardwoods are both frequently damaged and worn out early when wet is blown in or tracked in through the doors. awnings are a good way to help protect the investment you have made in the floors of your home.
An awning will also block harmful ultra violet rays from the light of the sun from entering the home. This can make your home healthier, helping to prevent skin cancer. Exposure to the sun is responsible for the vast majority of skin cancer cases. Some forms of skin cancer can be life threatening. The light of the sun can also fade carpets and furniture. awnings over windows and doors helps protect your health as well as your valuable furnishings.
An awning can also be used to create an outdoor area of shade. If you want a covered patio or deck for grilling, watching the kids play in the back yard or just reading the evening newspaper, awnings are an inexpensive alternative to other covers or room additions. It will also keep you dry if a sudden shower of rain comes along. No need to pick up all of your things and run in the house if you have a cover over your outdoor sitting area.
An awning made of canvas comes in a wide selection of colors and patterns. They give a nostalgic look to almost any home or business. They have been popular for over a hundred years. If the exterior of your home is rather bland and nondescript, awnings can be the right addition to give the exterior of your home a little character.
An awning will save money on your power bill for a long time. Canvas is a very durable material. They can be put up quickly and easily by most do it yourself home owners. You can get warranties on them that will insure that they last for at least ten years. When the awnings are worn out, you can get the canvas replaced without removing the awning.