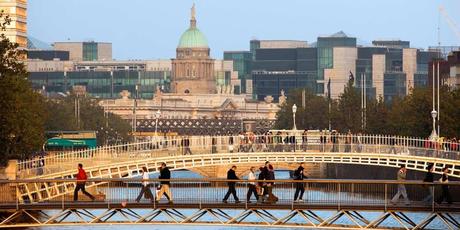 1. Staying in Dublin for more than a few days
I really love Dublin, but there's really nothing to do here for more than two or three days. The first trip I took to Ireland, I spent a great deal of time planning how I would go from Patrick's Cathedral to Dublin , how I would visit the many city bars, the Guinness Museum and how I would spend a whole day at Temple Bar
Who knew that the Cathedral to the museum is only a 7 minutes walk, and the entire Temple Bar can be bypassed in 15 minutes? So, if you have a trip for 3-4 days, I would recommend two days for Dublin, one for Hout and one for a trip to the Glendalough National Park or Powerscourt Gardens.
2. Refusing to rent a car
A car in Ireland is an absolute necessity. I know there are many wonderful stories about how people have had a great vacation in Ireland , traveling by boat, bicycle, bus or on foot. But this is rather an exception, not a rule. If you are traveling only to Dublin, Cork or Limerick , it is really quite easy to do without a car. But to get to any more or less remote location, prepare to fairly tormented.
Another question is "why NOT" rent a car? With a car you do not depend on anyone or anything, and can save significant time getting from point A to point B You are free to reshape your route as you like, and change your plans if and when unexpected circumstances arise. Gas is also very affordable on the island.
3. Dining only at pubs
Restaurant business in Ireland is now experiencing its heyday. Today in Ireland it is possible to eat so deliciously and beautifully, that it seems to me a crime to have dinner or have supper just anywhere in a random pub.
Tripadvisor in this case will be very handy and really help to choose the best restaurants, if you will be based not only on the rating, but also on the number of positive reviews.Because sometimes it happens that an excellent restaurant with 500-600 good reviews takes 10-12 positions on the list.