In the 1950s, Canada's Department of Transport commissioned a modernist makeover for a tiny international air hub in Newfoundland, a design that has proven as timeless as it was trendsetting.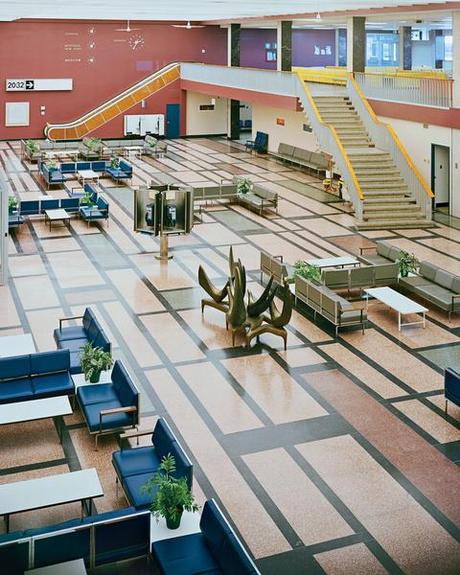 The international transit lounge at Gander Airport has retained its mid-century Robin Bush seating and Mondrianesque terrazzo floor. Senior curator Rachel Gotlieb from the Gardiner Museum in Toronto says that selecting such modern trimmings for the point-of-entry "was the beginning of a long march to show that Canada was a progressive nation."
In the early days of transatlantic travel, flights had to stop to refuel. Gander, Newfoundland, a tiny town in Canada's easternmost province, was geographically situated to step up. Halfway between New York and London, Gander's airport became known in the late 1950s as the "crossroads of the world."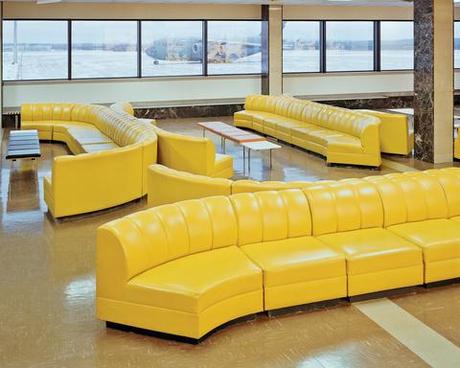 One of the airport's main features was the waiting room in which passengers could relax during stopovers without going through customs.
Since anyone flying to Europe had to stop there, and because it was mostly the wealthy traveling by air in those days, Gander welcomed a veritable who's who of 20th-century politicians, scientists, entertainers, and royalty. The Kennedys were regulars. Sinatra tried to cut in line at the bar and was told to wait his turn by fair-minded Newfoundlanders. Airport staff chitchatted with the Beatles and Albert Einstein. Marilyn Stuckless, who worked at the airport for decades, recalls that as a teen she and her friends hung out at the airport "just to watch all the people." She remembers the time Fidel Castro and his entourage borrowed their toboggans so they could try sledding in the snow. 
Yet, Gander's airport has another legacy besides its VIP guest book: its look. With so many jet-setters arriving in Gander, government officials, realizing that the airport's lounge might be the only part of Canada many travelers would see, decided to make it a beacon of a stylish, forward-looking country. Chairs by the world's leading modernists—Charles and Ray Eames, Arne Jacobsen, and Canadian designer Robin Bush—contributed to this maritime town's cutting-edge airport design. "Even in the day, we knew this was something unique," says Stuckless.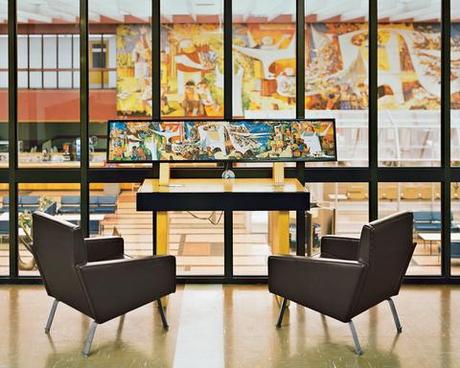 Gander's lounge sports a 69-foot-long, 12-foot-tall mural by Canadian artist Kenneth Lochhead, overlooked by Christen Sorensen armchairs.
By the late 1960s, modern jet design made midflight refueling unnecessary, and Gander became something of a footnote in aviation history. Today, the airport is used mostly for private planes, but the departures lounge remains virtually unchanged as if time has stood still.
Thanks to the Fogo Island Arts Corporation (FIAC), however—a newly created arts residency on nearby Fogo Island, whose remote location requires visitors to pass through the old airport—it is becoming a household name to a new generation of design lovers. "We tell visitors that it's like time standing still," says FIAC spokesperson Kathleen Crotty, "and something they should treat themselves to seeing."