Andhra Avakkai Pickle- A tangy delicious spicy raw Mango Pickle Avakaya
Avakkai Pickle is a very popular ,spicy delicious pickle from Southern India. Among all the pickle made all over India raw mango pickle is the most popular one,.
Each state have its own specialty pickle which is very popular there. This Avakkai pickle is a quite easy and simple to make as it have only few ingredients . Among all the mango pickle recipes I made regularly this is the most easiest pickle with just 4 spices.
You just have to cut the mangoes into small bite size pieces but make sure to wash and wipe them well as slight moisture can ruin your pickle. The spices should also be sun dried to remove the moisture.
How To Make Avakkai Pickle
First if all choose good quality raw mangoes . Then soak them in water for few hours to clean the sap and then wipe them well to remove all the moisture on the mangoes.
Then cut mangoes into small bite size pieces. If possible then cut with a special knife with the kernel intact with the mango flesh . If not possible then chop the flesh into small pieces. Spread the chopped pieces on a cloth and dry under the fan for 2-3 hours.
Dry roast the fenugreek seeds for 2 minutes till they change there color slightly, switch off the heat and then add mustard seeds in it and stir for a minutes .Dont over roast else they will taste bitter and after cooling grind them to make a fine powder.
Traditionally raw sesame oil is used in this pickle which gives a nice aroma and taste to the pickle. if you don't want to use it then use groundnut oil /mustard oil/ Sunflower oil instead. Addition of chick peas is optional but recommended.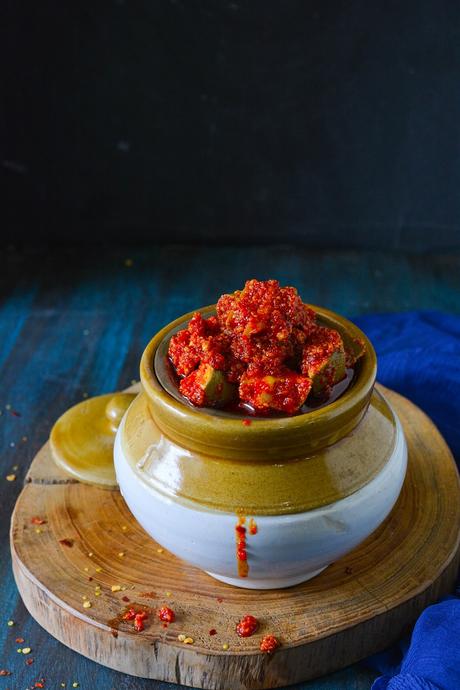 ★ Have you tried this recipe? Click on the stars ★ in the recipe card to let us know your feedback! If you tried it then You can also click the recipe pic and share on Instagram with hashtag #maayeka
ou can also follow me on, , and for more delicious recipes and updates
Avakkai Pickle/ Avakaya