Autumn, you make my heart sing,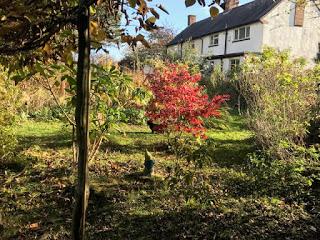 A sunny autumn day is such a wonderful thing. The light has a colour to it that is only autumn. The earth has dipped past the equinox and is more and more precious every day. I have to not dawdle at the weekend to get outside as the afternoon passes so quickly. One moment it is light, the next it is cold and getting dark.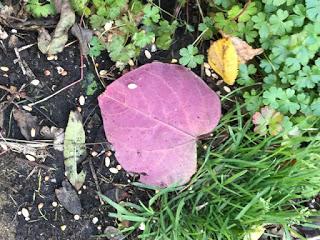 The leaves arrange themselves carefully on the ground to look as if they have just fallen randomly.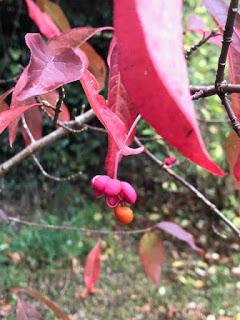 and there are few berries as determined to be admired as those on the Spindle Tree (Euonymus europa). The one in my garden is still quite young, but it has quickly established itself to be a welcome addition. It is one of those trees that I have put on the 'recommend to people when they ask me about trees' list.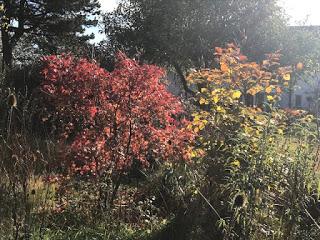 The autumn colour has been long lasting and vivid this year. I assume the long dry summer has had a hand in this. The beech pillar (to the right) has been slow to establish, it's sister trees planted at the same time are quite a bit taller. This last year though it has started to try and catch up. It is now shining alongside one of the Aldi acers quite spectacularly.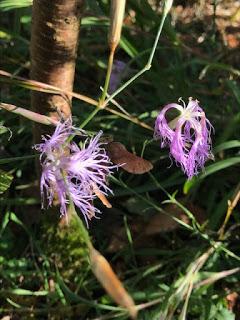 This Dianthus superbus is still flowering and has proved to be a great plant. I grew it from seed a couple of years ago and it has proved to be very tough and it mingles well in the border.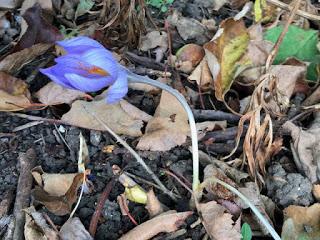 I love the colour that remains in the garden, this autumn crocus is a revelation this year. I have not grown it before and I think it is wonderful.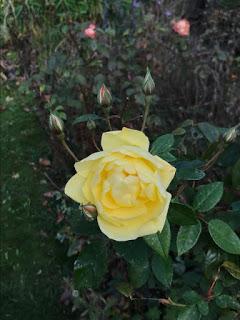 and still the roses bloom.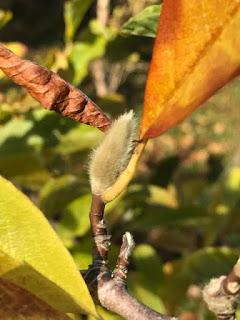 and the buds of the spring flowers on the Magnolia are already forming.
Autumn, I think (know) I love you.

*I might have been humming The Troggs' 'Wild Thing' when I was writing this..... due acknowledgement is made.