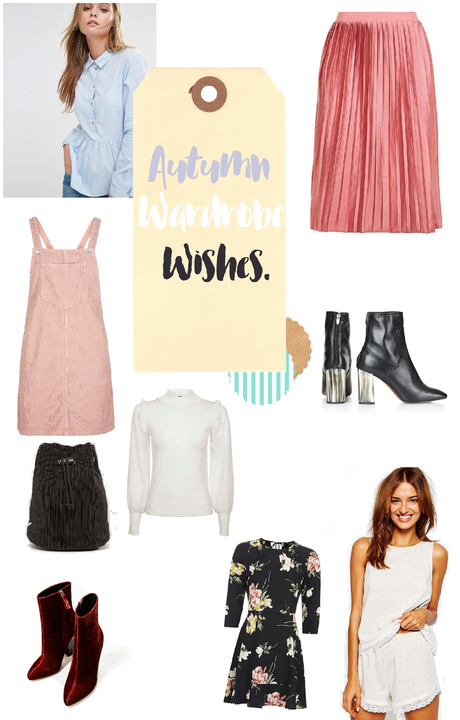 AW16the shopping editwishlist
Autumn Wardrobe Wishes.
29.9.16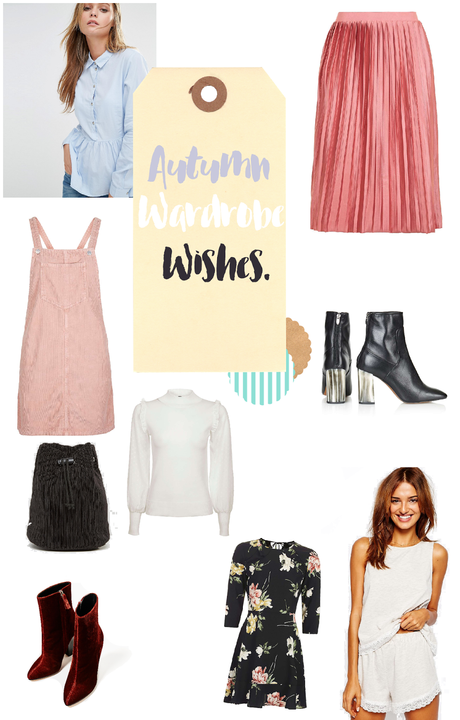 My AW16 wishlist.
Last night marked the first time this month that I sat, curled up in a blanket, puppy at my feet, and markedly wondered when I could hop into the bathtub for a warming soak and simultaneously fretted about dressing to be warm in the morning. Evenings are drawing in faster than ever and there's a deliciously nostalgic comfort in seeing the darkness of twilight creep in and briefly remembering all of those after-school hours spent awaiting home-cooked meals whilst breaking down the wildly eventful day that had just passed.
And so, as any semi-decent blogger does in 2016, I took heed of the online shopping bug and made a remarkably long list of my autumnal wardrobe wishes. In fact, at the weekend I took some time to switch out delicate camisoles and cold-shoulder tops for sweatshirts (oversized for that 8pm Netflix slot), midi skirts, silk shirts and rollneck jumpers, but below are the sartorial staples that I'm
certainly
missing...
Autumn Wardrobe Wishes.
Topshop Jersey Pleat Skirt · Monki Pleated Backpack · ASOS Lace Trim Vest & Short Pyjama Set · Topshop Paint Floral Frill Tea Dress · Topshop Heart Chiffon Hybrid Jumper · Topshop MUSIC Bone Heel Ankle Boots · Topshop MOTO Cord Pini Dress · ZARA Velvet Heel Ankle Boots
I'm still all about the pink and pretty this season; my wardrobe already features plenty of textured black jackets and dusters and boots and trainers that anchor an autumn look and that Topshop midi skirt will look incredible with a cropped black sweater and heeled boots. For the first time since, like, 2008, I've coveting a floral dress!! Ssh, don't scare it away... This Topshop number has adorable ruffles, a sweet swing shape and cut-out back that kinda balances out the primness of it all - just
imagine
it with heeled boots, a leather jacket and velvet shoulder bag!
After spying a pink pinafore on Hannah at the weekend, I'm desperately coveting one of my own to wear with little rollneck jumpers with frill details, white shirts and black T-shirts. Topshop have totally come up trumps with this one - now we just have to pray it wasn't crafted meticulously for a mannequin because, c'mon I have hips and a bum, alright?!
What are you wishing for lately on the sartorial front?
Shop the post: