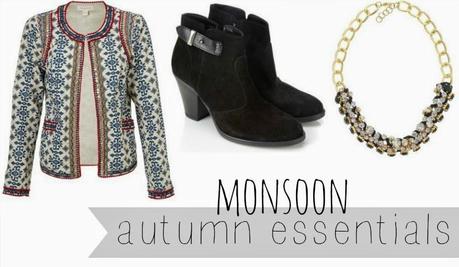 It may still be relatively warm outside but the leaves are starting to fall, the days are getting shorter and its becoming increasingly less acceptable to wear sandals. Hola autumn! Now I know I've done several autumn fashion posts - lets face it, it's the best time of year fashion-wise, and who doesn't love the change in the seasons? Yes, I am mourning not being able to don my favorite summer sandals, but also enjoying the change. 
Enter, Monsoon. I never thought they would have so many lovely items - I've always known it to sell gorgeous occasion dresses, but to be honest I didn't think it would have so many age-appropriate daytime items. Seeing as we have more months of this sort of cool weather, I am much happier investing a little money into autumn fashion, rather than on the summer clothes we get all of two months to wear! These statement jackets in Monsoon are right up my street, and perfect for this time of year when it is in between temperatures. Teamed with jeans, a crisp white tee and a pair of ankle boots you've got yourself the perfect daytime look. Chuck on a statement necklace for a bit more 
fanciness
 and you have perfection. 
Ah autumn, I love you.
*sponsored post