I'm playing trumpet in an ad hoc trio that's supporting a local production, A Legend of Communipaw. We supply a variety of simple tunes and sound effects here and there. One of the tunes we play is an old song, Al is ons prinsje – at least I assume it's old. Here it is on YouTube:

"How could you possibly get it wrong?" you ask, "It's so simple."
I know, I know. That's what's been bugging me. It's so simple; how could I possibly get it wrong?
But I figured it out. Here's a score for one version – there's a bunch of them out there, all slightly different, but most more or like this one in one crucial way: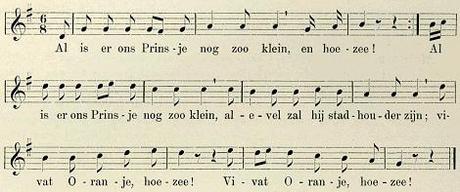 It starts with a three-bar phrase that's repeated once (the first line). Then we have an eight-bar phrase that's really two four-bar phrases (line 2, line 3). Most of the half-dozen or so versions I've looked at agree that this is the form [3 3][4 4].
Notice the rest at the end of that first phrase. Well, I simply extended that rest a whole bar to make the first phrase into a four-bar phrase rather than a three-bar phrase.
"Why would you do that?" you ask. Because it makes more sense. Or at any rate, it's what I'm used to.
You see, I don't actually read the music during performance. The light's rather dim in the "orchestra pit" so it's difficult to see the score. For the most part, that's irrelevant because I mostly improvise my part. That's what I am, an improvisor.
And I'm used to improvising in forms that are broken into four-bar phrases. Off hand, I can't think of a single tune I know that's broken into three-bar phrases. So, once I was playing this thing "by ear," as it were, I slipped into old habits and added that extra bar to make a four-bar out of a three-bar phrases.
Now, if you go to this page on the web you'll find a version of this tune that's in the Scottish National Library. The melody's somewhat different, but recognizeably in the same "family." And, this melody is constructed entirely of four-bar phrases. None of that three-bar nonsense. So, I'm not the only one who sought to impose order on those crazy Dutchmen.