66 days after our house burned down we got our insurance check in the mail! While we have never had to deal with an insurance company for a claim before I had indeed heard my share of horrors! I learned something very important about all the horrors you hear about insurance companies....its all true! The in fact do suck as much as you always hear about! You know who sucks worst of all? Assurant Solutions. I'm just sayin' if you have a choice in the matter then you should with out a doubt choose someone else! (End Cautionary Tale Here)   When the check came in were already in gear to head out on a little shopping trip to find a few things for the house & I'm not sure if you know this but when you are planning a 'little shopping trip for a few things' & then you open your mailbox to find a big fat check, well as Martin Lawerence said in Bad Boy's II...'Sh*t Just Got Real!' I will try to give us credit, we tried to stay on track & go to the flee market like we wanted. The problem was that I quickly found out that the swap meet I had known as a kid, learning to haggle prices with my dad in the background, is now the swap meet you go to buy your car stereo or wheels back after having them stolen. I'm not saying that I dragged my wife & kids to a flee market that may or may not have been a hot bed of stolen merchandise funding the Oklahoma drug trade but I totally did!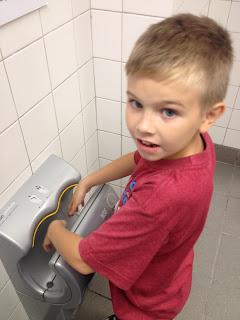 We were Ikea just outside of Dallas, TX & the Grapevine Mills Mall. While Ikea was only what can be described as a religious experience for my wife Jayden found the Dyson hand dryers in the bathroom & that made the whole trip to the store worth it. He just kept saying "I love science & technology!" After a "good" night sleep at the hotel we headed to the mall. If you have never been to the Grapevine Mills Mall it's  1,600,000 square feet of awesomeness. 250+ stores that include everything from candy to toys, H&M to Coach, Rainforest Cafe, Lego Land, & a Sea Life Aquarium! Just in case you didn't know Awesome = $$$ most of the time. While Lego Land was sold out for the day & the aquarium was going to cost us almost $100 in just admission we decided to skip those. Jayden's eyes got as big as quarters when he saw the big inflatable balls in water. He jumped right in & they aired him up. 6 min later we were informed that this was in fact the best day of his life. (Don't be impressed, when I bought him a
Harry Potter
wand at Barns & Noble that too was the best day of his life, we have a lot of those, lol)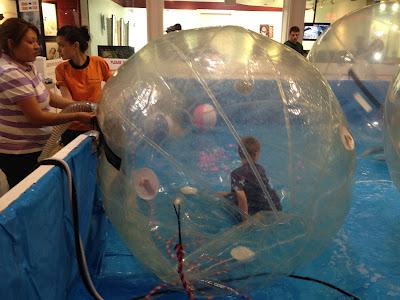 Getting into the 'Bubble' at Grapevine Mills Mall
   Now that we have our insurance money we are starting to really rebuild everything & I think the melting stress level in our home is finally starting to reflect in the boys. Its funny how even if you think you are really good at dealing with stress & even if you think there is no way it's showing the kids still pick up on it, the dog has even been acting stressed out & depressed! All is really starting to normalize now thought..... we use that word very loosely around here! Thanks for reading! Don't forget to follow our adventures on
facebook
,
twitter
, or instagram!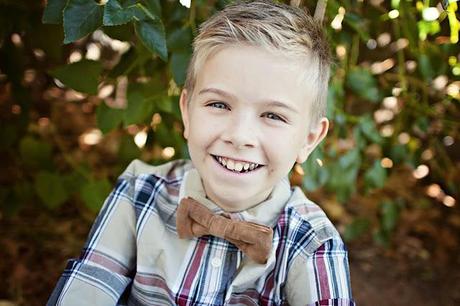 Jayden 9/8/12 - I'm not sure how this kid is mine with looks like this!