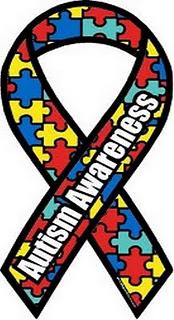 New research shows mild autism may be a lot more prevalent than doctors first thought. It could be as high as one in every 38 kids. Those kids may be doing fine in school, but with a little extra help, they could be doing exceptional and have fewer social problems. It is now becoming common for parents to wonder if their child has autism. If you are reading this and wondering about your own child, it may be time to ask your doctor or get an evaluation through Easter Seals. The kids with autism who are treated at a young age perform better in the long run.I think it's interesting to hear from the mom at the end of this article who says she didn't see any signs until her daughter was in third grade.
FROM NBC: A new study published online in the "American Journal of Psychiatry" suggests the prevalence of autism in kids may be far higher than previously thought. The findings could have a big impact on the way children are evaluated.
We are back, with news about a new study that is almost certain to ADD to the debate over a disorder that seems to be surging - and causes so much anxiety for families who wonder if their child HAS it. We're talking about the spectrum of autism disorders, and tonight, a new study overseas seems to show that the incidence could be even higher than anyone thought. Autism is a disorder that disrupts social interactions ...and covers a broad spectrum from terribly severe to mild. Today's study finds the mild form might afflict far more children than experts had assumed -- that the incidence of autism could be as high as one in 38 children --twice as high as most previous estimates. Professor Roy Richard Grinker, George Washington University "Autism is more common than we think and that there are a lot of kids out there who are actually doing somewhat well in mainstream schools but can do even better if they are provided some assistance." Researchers carried out the study in a suburb of Seoul, South Korea. The study was easier to do there because of Korea's universal health care and education But the scientists say there is no reason to think the results would be different elsewhere Most previous research examined medical records of children whose parents who sought help But this study sponsored by the charity Autism Speaks focused on 55,000 of the 7 to 12 year olds in the suburb -- those in regular schools as well as special education classes Dr. Young Shin Kim, Yale Child Study Center "So we knew that we were going to find more kids in this population." Judith Ursitti of Dover, Massachusetts thought her daughter Amy was doing fine until the third grade, when Amy started having problems with other children. Eventually she was diagnosed with Asperger's a mild form of autism -- and therapy has gotten her back on track. Amy "Now that I recognize how I am different from other people it has really helped me a lot." And, these scientists say, today's study suggests there are a lot more kids like Amy around the world who might benefit from the extra help that can follow a diagnosis of autism.