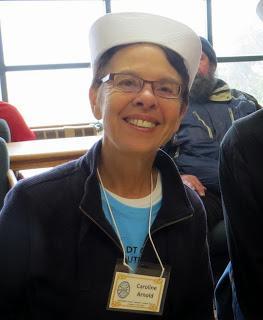 I am just back from Eureka, CA, and the wonderful
Humboldt County Children's Author's Festival
--great schools, great people, great authors and illustrators, great Humboldt county scenery--who could ask for more? The theme this year (you can tell by the hats) was Author's Ahoy!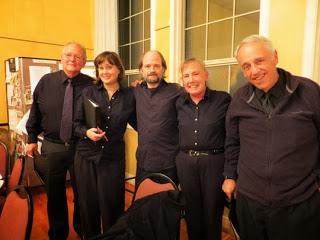 Humboldt County Chamber Readers who performed my book Wiggle and Waggle
Every two years the hardworking festival committee invites twenty-five author and/or illustrators for four days filled with a variety of activities–author visits in the schools, a reception and illustrators' exhibit at the Morris Graves Museum, a potluck dinner with entertainment by the talented Chamber Readers, a banquet–held this year in the elegant Ingomar Club, and a community book signing at the Humboldt Public Library.  This the fourth time I have participated in the festival, and each time it gets better and better.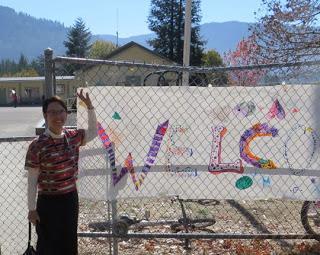 Welcome banner, Mattole School, Petrolia
On the first day of school visits my driver, Jere, took me to the wild and beautiful Lost Coast where I visited Mattole School in Petrolia and Honeydew School in Honeydew.  The long ride from Eureka went through Ferndale, up and down over the hills, with spectacular views of the ocean and Cape Mendocino.  At Mattole, I spoke to two groups of children, first the primary grades and then, after the earthquake drill, to the upper grades.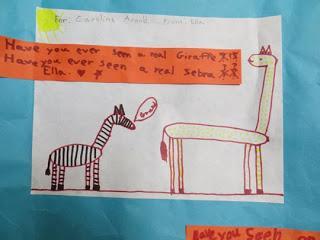 Questions and drawing, Mattole School
The children had read several of my books and prepared questions and wonderful drawings for me.  I could see that their favorite books were about giraffes and zebras!  Then after a delicious lunch at Mattole, I went to Honeydew School where the children had learned about platypuses in my book
A Platypus' World
. Then I read them my story about another "mixed-up" animal
The Terrible Hodag and the Animal Catchers
.  Afterward my driver took my through the majestic redwoods to Highway 101 and we headed back to Eureka.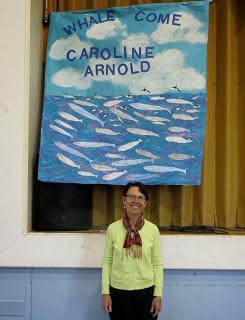 "Whale Come" at Redway School
On the second day of school visits my driver, Linda, took me to Redway School, also near the redwoods.  The children there had made wonderful welcome posters and prepared questions.  At the end of my presentation the children gave me their questions which had been written on index cards.  Most drew pictures on the other side.  Among my favorites was a picture of me and the student under a colorful rainbow.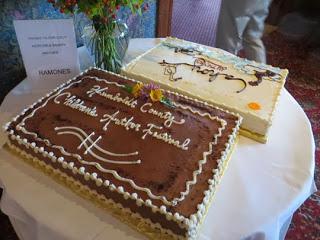 Banquet dessert.  Delicious cakes by Ramones
Friday night was the celebratory banquet at the Ingomar Club. Because it was our first time there, the authors were treated to a special tour of the house before the dinner. After a delicious meal, each of the authors gave a three minute talk.  I'm always amazed at the talented company I'm in and  how each one of us is unique. Then, on Saturday from 10:00 to 2:00 we all signed books at the Humboldt County Library, before heading home. It is a tradition that we all wear our festival t-shirts for the signing.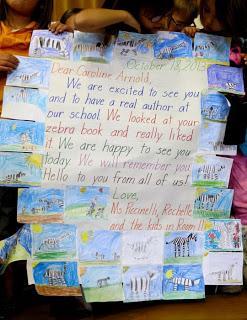 "We are excited to see you and to have a real author at our school." Letter and Zebra pictures from students at Redway School..
It was a full four days with many events to remember.  I thank all the people who work so hard to put it on.  You do a terrific job!