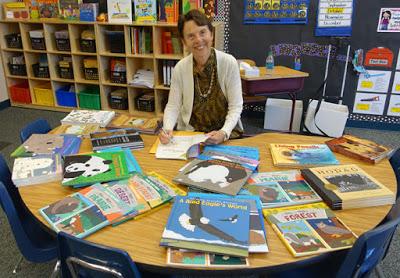 Signing books, Belleville School, Porterville, CA
For two weeks I have been doing author visits in Porterville, California, at ten wonderful elementary schools. The students and teachers have been very enthusiastic and responsive at the assemblies and the reading teachers, who have been my hosts and coordinators at each school, have done a fantastic job of organizing each day.  Here, in chronological order are some of the highlights of my visits.
Monday, October 17, Monte Vista School.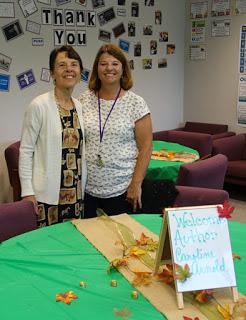 With reading teacher Ruth Shirk
I began the week at Monte Vista School where I did two assemblies followed by book signing in the library. Then there was a delicious potluck lunch in the staff room and more book signing. I thank Ruth Shirk for organizing the day and for coordinating my trip to Porterville.
Tuesday, October 18, Belleview School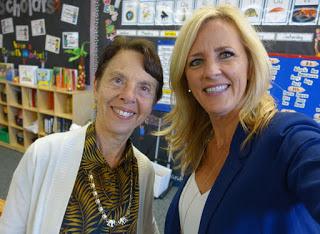 With reading teacher Michelle Davis
At Belleview School I did two assemblies followed by "book signing parties" in Michelle Davis' classroom, and then visited several of the kindergarten classrooms. The principal, Crystal Milinich and assistant principal, Jolene Robles, took me out for a very tasty lunch at the Oak Pit Steakhouse.
Wednesday, October 19, Westfield School.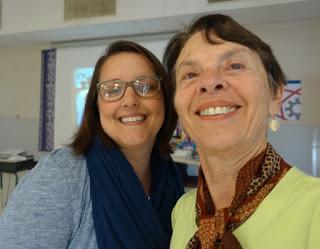 With reading teacher Candance Castillo
Both Wednesday and Thursday of this week were minimum days because of parent conferences so my assemblies had to fit into the morning before lunch. Candance Castillo made sure that everything ran smoothly. I then got to meet with the teachers during their lunch.
Thursday, October 20, John J. Doyle School.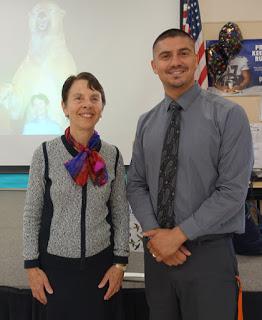 With reading teacher Andrew Lopez
Even though it was a minimum day, we managed to have three assemblies at Doyle. I thank Andrew Lopez for helping to make everything run efficiently so that we could make every minute count.
Friday, October 21, Los Robles School.
The week ended with a visit to Los Robles School with two assemblies, a delicious potluck lunch provided by the school staff, and book signing in Shelby Curry's classroom. Shelby did a terrific job of organizing the day and I thank parent Melody Burkhart for being on hand to help with set-up, book sales and helping make things ran smoothly. It was a great end to a very successful week!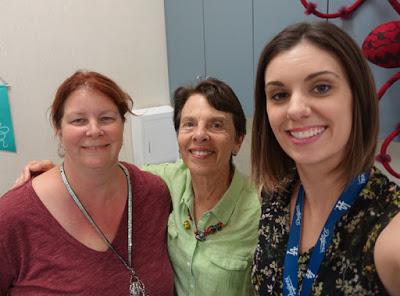 With parent Melody Burkhart and Reading Teacher Shelby Curry