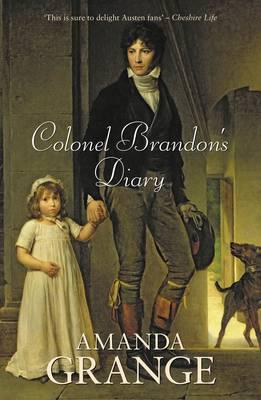 Amanda Grange was born in Yorkshire and spent her teenage years reading Jane Austen and Georgette Heyer whilst also finding time to study music at Nottingham University. She has had sixteen novels published including six Jane Austen retellings, which look at events from the heroes' points of view. She's my guest on My Jane Austen Book Club  to present the paperback version of her Colonel Brandon's Diary.
Austenblog declared that Colonel Brandon's Diary was "the best book yet in her series of heroes' diaries."
Amanda Grange now lives in Cheshire.
You can find out more by visiting her website at 
http://www.amandagrange.com
 You can also follow her on Twitter
@hromanceuk
and find her on Facebook.
As many people will already know, I've spent the last eight years of my life writing a series of novels which look at Jane Austen's classics through the eyes of the hero. It began in 2003 when I found myself thinking about the "missing scenes" from Pride and Prejudice, the scenes that happen off the page, like Mr Darcy finding his sister about to elope with George Wickham. The book was published in 2005 as Darcy's Diary, and then in paperback just over a year later as Mr Darcy's Diary.




Little did I know what I was starting! I loved writing Mr Darcy's Diary so much that as soon as I finished it I embarked on Mr Knightley's Diary, which led me inevitably to Col Brandon's Diary. Although, not quite inevitably. Because when I started my retelling of Sense and Sensibility, I was going to write Edward's diary. Edward Ferrars was, of course, the suitor for Elinor Dashwood, the sensible sister. But as I read Sense and Sensibility again, I realised that it was Col Brandon's story I needed to tell.

He is almost a background figure in Sense and Sensibility, but in one short conversation, he tells Elinor about his tragic life, full of love and heartbreak. I just knew I had to take those few paragraphs and turn them into the first half of Colonel Brandon's Diary.



Life is good for Brandon as a young man. He's happy at university and happy at home, in love with his father's ward, Eliza, who loves him in return. But he is devastated when his father forces Eliza to marry his brother, who treats her very badly. His wretchedness increases when his brother's cruelty and many affairs drive her into the arms of another man. His brother casts her off, and he at last finds her, destitute, and dying of consumption. The beautiful young girl is no more, only an emaciated woman remains. But her eyes are the same, and his love for her is the same. He rescues her from debtors' prison, but can do nothing more than make her comfortable and hold her as she dies.
I was weeping bucketloads as I wrote her death scene. It's restrained, as befits an entry in a man's diary, but very emotional all the same.

He throws himself into work, rising to the rank of Colonel in the army, and then he meets Marianne Dashwood. Slowly, her honest, open nature begins to bring him back to life. But Marianne never looks at him twice, because she is in love with Willoughby . . .

So starts one of the most poignant love triangles in literature, until at last Marianne discovers Willoughby's true nature, and finds that she has more in common with Brandon than she realised. I really loved writing the end of the book, where Marianne gradually falls in love with Brandon and the two of them embark on a happy life together.



I really love this book, and I hope you love it, too..
                                           Amanda Grange