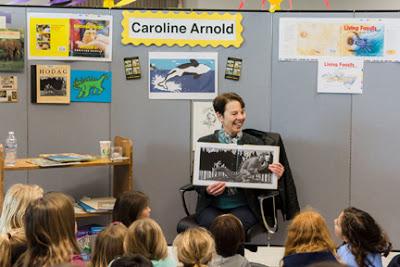 Reading The Terrible Hodag and the Animal Catchers at my Author-Go-Round Station
A week ago I was one of four authors participating in the annual week long Author-Go-Round in Santa Barbara put on by the Santa Barbara County Education Office (SBCEO). This was the 47th year! It was more than thirty years since I last participated and it was just as much fun as I remembered.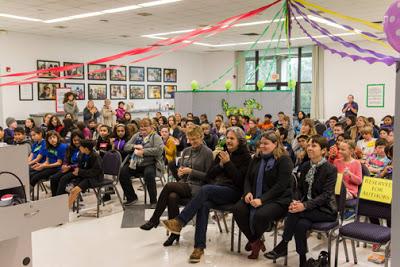 Authors Lee Wardlaw, Eugene Yelchin, Kristen Kittscher and Me at the SBCEO Author-Go-Round
Each day about 125 students came to the Santa Barbara County Education Office on Cathedral Oaks Road and assembled in a large auditorium. After registering, the students did short writing activities and collected autographs from the authors in the booklets they had received. Each author had a special autograph page in the booklet as well as a page with "cool facts" and a list of recent books.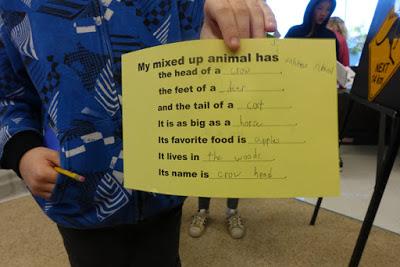 Writing Activity: One student's Mixed-Up Animal, inspired by my book The Terrible Hodag and the Animal Catchers
There were four authors–Lee Wardlaw, Eugene Yelchin, Kristen Kittscher, and me-- and we each had our own corner to set up our "station". (I was the yellow station, decorated with yellow balloons and a yellow carousel horse.) The students then heard each of us make a short (15 min) presentation. After that they rotated around the room in smaller groups, spending 15 minutes at each station asking questions and interacting with the authors. Almost every group wanted to know what was my favorite animal and my favorite book. (I like them all!) At the end, students received prizes for the best writing activity. One activity was to create a mixed-up animal like the Hodag in my book
The Terrible Hodag and the Animal Catchers.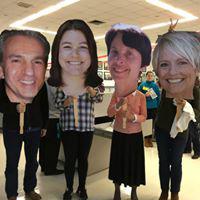 With our cut-out heads made by Fred Borchers
The students who attended were from all over Santa Barbara County. A limited number came from each school and in many cases they had competed to be selected. The kids were in grades 4-8.
Every year the planning committee at SBCEO works really hard to put the Author-Go-Round together and make sure that everything runs smoothly. I thank Matt Zuchowicz, Director of Educational Technology Services, Scott Spector, Coordinator of Innovation and Academic Events, and the Educational Technology Services staff, Fred Borchers, Doris Buchanan, Rose Koller, Homer Morro, and Kristen Walker for doing a fantastic job. For the students and teachers who come, it is a highlight of the year. For authors like me, it is an ideal opportunity to interact with the students, teachers and librarians who are reading my books at home and at school. THANK YOU!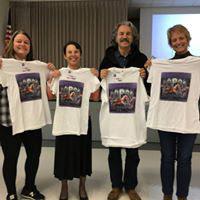 With our souvenir T-Shirts!