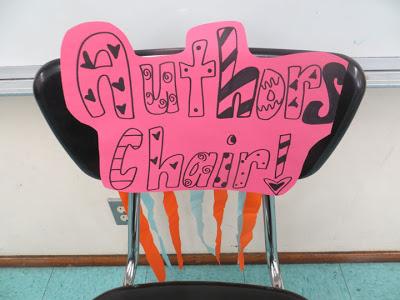 Every author needs a special chair!  I found one waiting for me when I arrived at Micheltorena School in Los Angeles last week to meet with kindergarten, first and second grade students in the LA's Best Young Author program.  Each one of the students had a book in progress and was becoming a young author and illustrator.  In my presentation I shared how my process of creating a book is much like theirs.  At the end of the hour I asked the students to share some of their favorite pages from their books.  I was impressed by their lively examples, their use of comparisons, their imaginations and their overall creativity! Here are some examples from their books: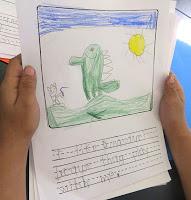 I like dinosaurs because they play with me.
I am riding my skateboard because I do tricks.
I am a dancer because I practice and practice, and then I become one, and I show every body.
My sister is like a star.  She is pretty like a butterfly.  She is smart and I love her.
Dedicated to: my Dogs and cousins and Brother and Mom and Dad and Tia and sister and friends.
I am growing up to be a Firefighter because I help people.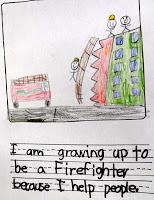 The author visits to students in the LA's Best Young Author program are funded by Target and coordinated through California Readers. California Readers is a group of educators, librarians, authors, artists, parents, book sellers, and business representatives whose mission is to connect California children, young adults, and their school communities with California authors, artists, and their creative works.