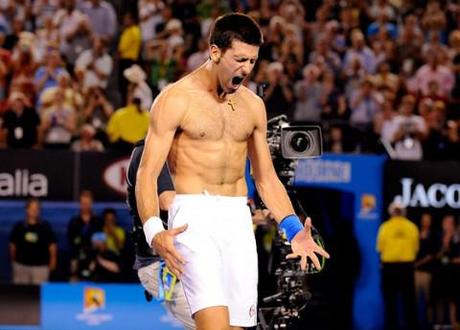 Shirtless Djokovic celebrates his Australian Open win. Photo credit: Ben Solomon / Tennis Australia
Novak Djokovic has defeated Rafael Nadal in the longest Grand Slam final in pro-tennis history. Djokovic's truly epic triumph in the Australian Open final on Sunday – it lasted a grueling 5 hours and 53 minutes – is being widely hailed by sports commentators as one of greatest contests in the history of the sport.
The final lasted so long that Djokovic did not win until 01.37 on Monday morning in Melborne's Rod Laver Arena. So elated was the Serb that his tore off his sweat-drenched shirt and tossed it into the crowd.
The game, in which Djokovic trailed 4-2 in the final set yet managed to claw his way back, captured the imagination of anyone with even a passing interest in the game. West London football side QPR's outspoken captain  Joey Barton tweeted it's "pleasure to watch this. 2 athletes making history at their peak. Class."
Formidable gladiator. Kevin Mitchell at The Guardian's Sport blog was spellbound by Djokovic's mastery. "Still there is no denying who the boss is now and for the immediate future. The world No1 should have a plus sign next to that ranking because he has again edged away from Nadal and Federer, as well as Andy Murray, the world No4 whom he beat in a fantastic semi-final over five sets on Friday night." "How good is Djokovic?" wondered Mitchell. "After suspicions earlier in his career that he was quicker to quit or moan than fight he has become a formidable gladiator."
Djokovic's win marked his third straight Grand Slam win and his seventh defeat of Spaniard Nadal in a row. It cemented his status as the world's number one.
The greatest ever player? James Lawton of The Independent said the contest "carried us some way beyond the normal margins of sport" and "was still more evidence that he (Djokovic) is not only the greatest player of his day but potentially of all time. Yes of course he has a long way to go to catch Roger Federer on his mark of 16 major titles – and even Nadal with his 10 – but at 24 he has come not merely to dominate tennis but almost to devour it." Djokovic "doesn't make shots so much as produce a series of breathtaking acts of will'" purred Lawton, who said the man from Belgrade "plays beyond both mood – some of his behavior can be fierce, as we saw at Wimbledon last season when he systematically smashed his racket on the baseline after a series of poor shots – and fatigue."
"His returning is one of the best in history, in my opinion," Nadal said.
Indomitable panther. Neil Harman of The Times (£) doubted that there is a part of a tennis court that "indomitable" Djokovic cannot reach: "Try to pull him out of position, he rebounds, try to drop the ball short, he covers the ground like a panther, try to thunder down serves and he returns with apparent effortless premium." Harman marveled most at Djokovic's steely nerve in turning defeat into victory in the fifth set: "You do not give 'the Djoker' a second chance … One championship point was all that Djokovic required: there was a fascination in watching him step in to crunch a forehand winner into the Nadal forehand corner and relish that old familiar feeling of his legs disappearing from underneath him."