There were no real surprises as the RBA released their quarterly statement on the condition of the Aussie economy. No rate rise was expected and didn't materialise making it 19 policy meetings with no rate change. Regardless of the lack of rate activity markets were looking for clues or any changes in direction or rhetoric.
Australia's inflation still subdued
As of March, Australian CPI has risen by 2%, the lower end of the Reserve Bank of Australia's 2-3% annualised forecast. Last month quarterly CPI fell short of its target reaching 0.4% against the forecast of 0.5%. In a previous statement, Governor Lowe stated that higher inflation could only be expected to gradually return to the banks' target of between 2-3%. As with many developed economies, Australia has been troubled by inflation.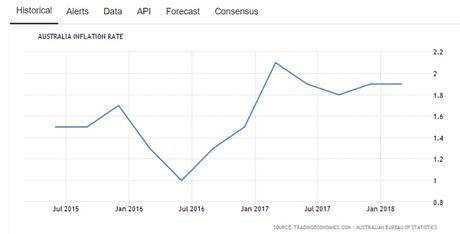 Last month's poor inflation figures condemned the AUD to a four-month low against its US counterpart. Australia's inflation is also very geographical, for example, many East Coast towns have experienced inflation of above 2.0%, yet towns such as Darwin and Perth have only seen a moderate increase, 1.1% and 0.9% respectively. The considerable gulf driven predominantly by housing and sustenance prices.
Goods where overall prices have risen include vegetables, pharmaceuticals, gas and other fuels with these products recording the largest prices growth across Australia.
State of the Australian labor market
Governor Lowe acknowledged that the Australian job market had performed well over the last year but had slowed with a three-month annualised growth of 1.2%. The signalling a sharp decline from the estimated 3.4% growth for the last calendar year.
April's job report highlighted the first decline since September 2016 calling an end to the country's hot employment streak. The jobs market fell according to Aprils figures with full time employment falling by 19,900 to 8.51 million. The part time employment market saw a greater gain 24,800 totalling 3.9 million. Annually full-time employment increased by 226,900, whereas part time employment rose by 140,200. Short of the January high of 431,000 which has now retraced.
Australian unemployment remains consistent at the 5.5% a level, well above the estimated 5% that economists predict that will initiate pressure of wages.
Aussie growth still on point
Growth predictions in Australia remained unchanged and are expected to hold at 3.25% in 2019 and 2019. This growth which should come in over trend should spur wage growth and inflation. Westpac however have a more cautious believing that growth will remain under trend at around 2.7% and that the economy will struggle to see much growth in wages or rising in inflation.
Household debt finally contained?
In Mid-April the RBA published a report into the country's financial health, it announced that financial risk was easing but warned that accumulated household debt will take years to shake off. The RBA commended lenders on their efforts to increase the criteria needed by borrowers in order to borrow money, saying that higher risk lending was down significantly in the last 12 months.
Australia's debt to income ration sits at almost 190% up almost 30 % in the last five years.
Governor Lowe the same week mentioned that the RBA believed that low wage growth had reached the low point and confirmed that bank believed that wage rise would not be motivated by economic conditions improving across Australia. Believing that this growth would be spurred by activity outside of the mining sector.
When will the RBA increase interest rates?
During a dinner, just hours after the RBA's rate announcement Governor Philip Lowe claimed that tighter lending criteria on banks will lead to a reduced household balance sheets would in turn lead to interest rate rise. Potentially indicating that household debt in Australia remains the largest hurdle to overcome.  Covering other elements of the Australian economy Lowe also said:
"the Australian economy is in better shape today than it was a year ago, with significant progress having been made in slashing unemployment and having inflation return to around the middle of the target range. The Reserve Bank expects further progress in these two areas over the next few years."
Much will be made of these out of hours comments. Essentially inflation needs to look like its heading towards the barometer of 2-3%, household lending needs to be further contained and the job market, although not at last year rate needs to demonstrate growth. Eventually, this should see unemployment fall which will put pressure on wages. Only then would a rate rise be considered, in short, we are some time off.
Australian dollar performance this week
The Australian dollar despite its largely encouraging economy has come under pressure from the USD this month. A fate shared with many of the majors. Whilst the Aussie economy hasn't been tearing up trees in the same way it did last year, there is still much to encourage. Jobs remain strong, the RBA have found a solution to the spiralling household debt and also believe inflation will increase to their preferred levels. Regardless the USD/AUD trend has demonstrated the new belief in the Dollar. Over the last month, the pair have moved from a low of 1.2810 seen in a few weeks ago to a high of 1.3369, which was realised with the release of the US ISM manufacturing figures. The pair however remains volatile with notable data emphasising this instability.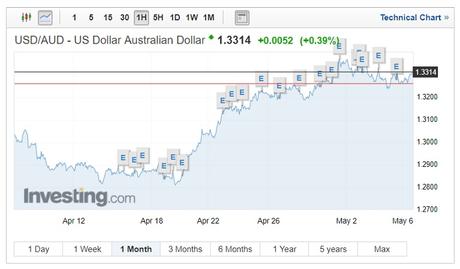 The AUD would have naturally felt pressure as talk of trade war circulated, especially as China, despite Australia's diversion away from mining remains a key trading ally. China also recently released their economic growth figures, demonstrating better than expected growth which should eventually feed through to the Australian economy.