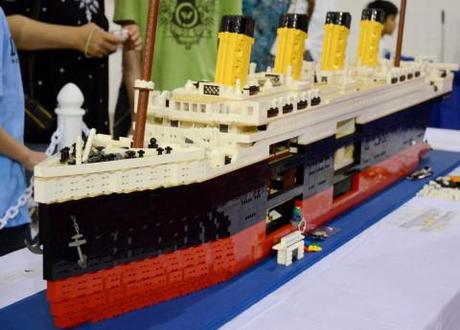 Titanic II: Unlikely to be made of Lego photo: Bosta
Billionaire Clive Palmer has announced plans to build Titanic II, a full-size replica of the doomed liner. As the dust settles after the 100th anniversary of the sinking of the famous ship, the Australian property and coal magnate said the new Titanic will set sail in 2016.
Unlike the original ship, which was built in Northern Ireland, Titanic II is set to be constructed in China, and will be escorted on its maiden voyage by the Chinese navy, reported Bloomberg.
Will it sink? Over 1,500 people lost their lives after Titanic struck an iceberg in 1912. Perhaps inevitably, the most pressing question over Titanic II is: will it sink? "It will be every bit as luxurious as the original Titanic but of course it will have state-of-the-art 21st Century technology and the latest navigation and safety systems," said Palmer, reported the BBC. But the Australian billionaire did sound a note of caution: "Of course it will sink if you put a hole in it," Palmer told reporters.
Titanic II is also the title of a 2010 straight-to-video film, which seems members of a doomed Titanic replica fight to save the ship from sinking. Presumably Clive Palmer has not seen the movie. Watch the trailer below.
A tribute? Palmer described the project as "a tribute to the spirit of the men and women who worked on the original Titanic", according to The Daily Mail. The announcement comes after concerns were raised during the Titanic anniversary over "cashing in" on the ill-fated ship, as The Periscope Post reported.
Interesting timing. Australia's fifth richest man "made the announcement on the same day he revealed his hopes to contest the next federal election in the Queensland seat of Lilley, held by Deputy Prime Minister and Treasurer Wayne Swan," pointed out The Sydney Morning Herald. "Quite an incentive for votes, don't you think?" mused Matt Brian at The Next Web.
Trouble ahoy? "His desire to see his version of Titanic sail past the Statue of Liberty alongside a Chinese naval escort could raise a few eyebrows in the U.S. where Mr. Palmer has previously accused the Central Intelligence Agency of funding clandestine campaigns in Australia," said The Wall Street Journal.