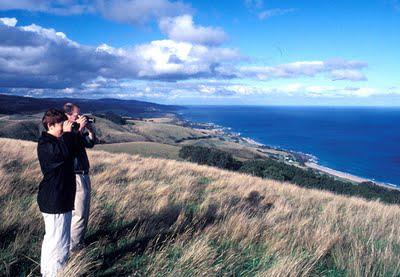 View of the coast along the Great Ocean Road from our B and B in Apollo Bay
March 1999 (excerpt from my diary of our three month stay in Melbourne)
Our expedition for the weekend was a trip along the
Great Ocean Road
--Australia's equivalent of California's Highway 1.  Our first stop was in the port city of Geelong, Victoria's second largest city and the center of the wool industry.  We toured the
National Wool Museum
there which was a nicely displayed explanation of the history of the sheep industry and the many steps between a sheep on the hoof and a piece of finished fabric.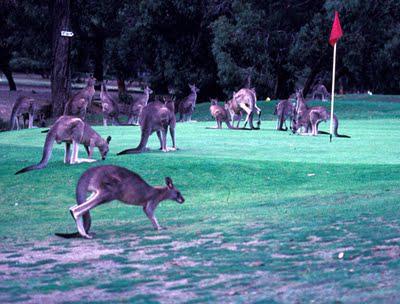 Fore! Golf course at Anglesea
After lunch we began our scenic drive along the coast (stopping to view the kangaroos on the golf course at Anglesea) and arrived at our B and B in
Apollo Bay
by mid-afternoon.  I had decided to splurge a bit and chose a "room with a view."  Actually we had a whole vacation house that sat on top of the ridge above the town and had a 360 view of the coast and surrounding countryside.  The view was spectacular and it was too bad we couldn't just stay there for the whole weekend.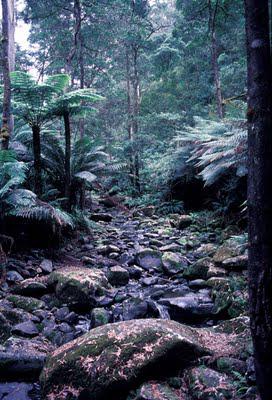 Rainforest near Anglesea
The next morning we continued on our way and drove through
Otway National Park
where we stopped to do a short walk through lush rainforest and then drove to the headland to visit the
lighthouse
which stands on a cliff nearly 100 meters above the shore.  This is the point that marks the division of the Bass Strait (between Australia and Tasmania) and the Southern Ocean.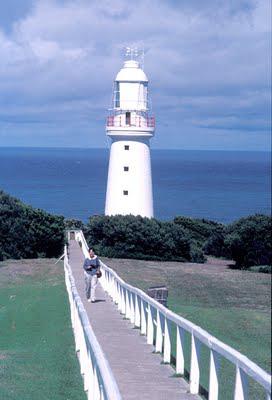 Lighthouse on Otway Peninsula
My brother (who was visiting) and I climbed to the top of the lighthouse (no longer in operation but open to tourists) and the attendant told us that going south from there the next landfall was Antarctica; going west, one wouldn't hit land until reaching Patagonia in South America!  Sailing ships from Europe have to pass the Otway Peninsula on their way to all the major cities along Australia's east coast and, in former times, before modern navigation, it was a dangerous passage because of the treacherous currents.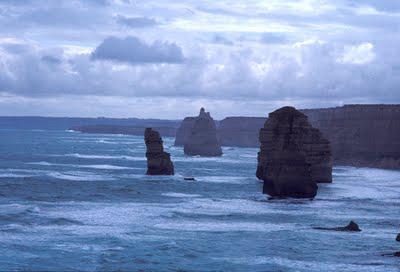 The Twelve Apostles
The Ocean Road goes inland for a while at this point and we did a short diversion to visit a beautiful waterfall.   When the road returns to the coast it reaches the most famous feature of this coast--the
Twelve Apostles
, a series of giant rocky outcrops just off shore. (Actually, you can only see seven.)  Like all the other tourists lined up at the overlook, we took more than enough photos.  Then we finished the trip with a stop for tea and scones in nearby Port Campbell and from there we circled back to Melbourne on a main inland highway.
Details:  We organized this trip by ourselves and went by car using maps and brochures we had gotten from the RAC (Royal Auto Club), which has a cooperative relationship with the AAA. (Remember that in Australia people drive on the left.)