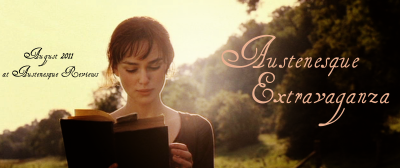 This post is part the Travelling Tuesday in the Austenesque Extravaganza at Meredith's Austenesque Reviews. Commenting here and leaving your e-mail address , you'll get a chance to win one of the prizes of the Amazing Austenesque Giveaway.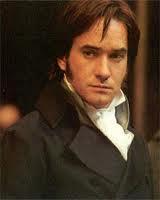 Mr Darcy is Jane Austen most beloved hero. What are the qualities that have made him a cult beyond time, the dream 
man of so many  women?
In my "Talking Jane Austen with ... " sessions I have often asked  my guest authors to answer this question. Today I'm asking you, what makes him the iconic romantic hero he has become? What do you especially like in this character?
1. WHO IS MR DARCY IN PRIDE AND PREJUDICE?

PHYSICAL APPEARANCE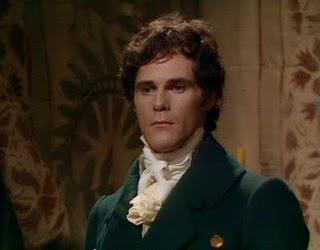 Here is how he is introduced by Jane Austen on his first appearance at the Meryton Assembly:
"Mr Bingley was good looking and gentlemanlike;… but his friend Mr Darcy soon drew the attention of the room by his fine, tall person, handsome features, noble mien; and the
report which was in general circulation within
five minutes after his entrance, of his having ten thousand a year. The gentlemen pronounced him to be a fine figure of a man, the ladies declared he was much handsomer than Mr Bingley,…"
PERSONALITY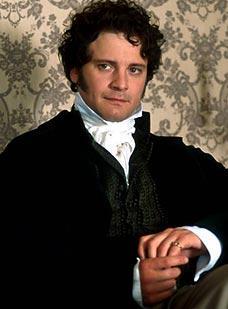 Mr Darcy's
temperament is analysed in comparison to Mr Bingley's. This is how he is seen at the beginning of the novel .
"Between him and Darcy there was a very steady friendship, in spite of a great opposition of character. Bingley was endeared to Darcy by the easiness, openness, ductility of his temper, though no disposition could offer a greater contrast to his own he never appeared dissatisfied. On the strength of  Darcy's regard Bingley had the firmest reliance, and on his judgment the highest opinion. In understanding Darcy was the superior. Bingley was by no means deficient but Darcy was clever. He was at the same time haughty, reserved, abd fastidious, and his manners, though well bred, were not inviting. In that respect his friend had greatly advantage. Bingley was sure of being liked wherever he appeared, Darcy was continually giving offence".
His strong temper, his self- confidence, his contempt for inferior social ranks are the result of his upbringing. (But we know he will change in the end!)
BACKGROUND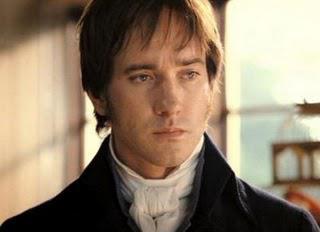 He has inherited his great estates five years before the story begins, at his father's death. His patrimony amounts to ten thousand a year. He is of noble rank, since he is the grandson of an earl.
FAMILY CONNECTIONS
Mr Darcy
lives at Pemberley, his magnificent residence with a huge park in Derbyshire, with his beloved younger sister, Georgiana. He is kind and protective to her, especially, since her great disappointment with Mr Wickham (do you remember? She was going to elope with him but her brother stopped her just in time!) Looking at his tender affection to sweet Georgiana, Elizabeth starts changing her mind on Darcy (or was it because of … Pemberley?)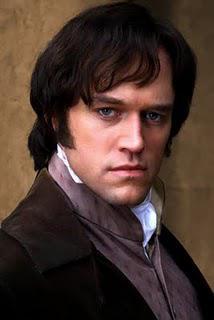 IN LOVE WITH THE HEROINE: FIRST PROPOSAL 
Mr Darcy 
denies even to himself that he is attracted by Eliza Bennet and these are the first words referring to her he utters at Meryton, when asked by his friend Mr Bingley to dance with her: "
She is tolerable; but not handsome enough to tempt me; and I am in no humor at present to give consequence to young ladies who are slighted by other men…"
. Elizabeth and Mr Darcy meet again at Netherfield, at Longbourn and at Rosings but nothing make her - or the reader - suspect he is in love. So his marriage proposal comes utterly unexpected and is definitely rejected. Elizabeth is offended by his words regarding her social inferiority and inadequacy. So , infuriated, she accuses Darcy of being the cause of her sister's and her new friend Wickham's unhappiness and refuses him as the last man on Earth she would ever accept to marry. Well, these are not exactly the words she uses…
(Have you ever seen
my collage of the first proposals
?)
... AND SECOND PROPOSAL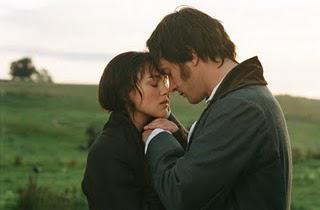 Mr Darcy
reveals himself generous, tender, honest, trustful and, little by little, Elizabeth comes to love him. Her "conversion" from contempt to love starts with the reading of Darcy's letter revealing the truth about Wickham. Then, it goes on at Pemberley when she listens to Mrs Reynolds's – the housekeeper – appreciating words for her kind master and especially after seeing his transformation into a loving caring brother to Georgiana. After discovering his involvement in the happy finale of her sister's elopment with Wickham … she's terribly ashamed for her wrong first impressions. Fortunately, there will be a greatly welcome second proposal…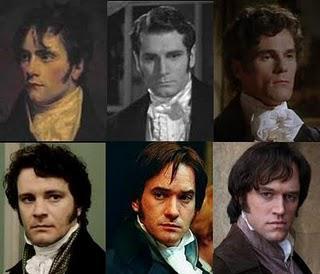 Image by Laurel Ann at Austenprose
2. MR DARCY ACCORDING TO ...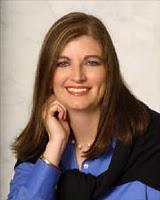 Beth Pattillo (from What makes a man heroic? Beth Pattillo answers my questions)
"I love the relationship between Elizabeth and Darcy, because I think they both have to overcome a significant flaw in their character before they can appreciate the other. Darcy is perhaps the ultimate challenge for an Austen heroine"


Susan Adriani (from Talking Jane Austen with ... Susan Adriani )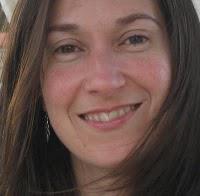 "Mr. Darcy's manners may not be as engaging as Colonel Fitzwilliam's, Captain Wentworth's, or Henry Tilney's, but he is, without a doubt, the epitome of tall, dark, and handsome! While we are initially given to believe that he is proud, haughty, and aloof—we soon discover there is more to him than our initial impression. His quiet brooding lends him a very powerful and enigmatic presence, one that is all the more enticing once we learn how much of a gentleman Darcy truly is, and how brightly he burns for Elizabeth Bennet. The fact that he takes her reproofs to heart, and truly makes an effort to change his haughty ways so he could someday earn her good opinion, only sweetens the deal

!"
Kara Louise  ( from Will a Modern Darcy do for you? Guestblog)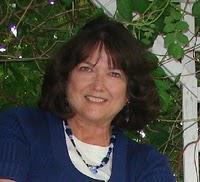 "I think some of the traits of a modern day Darcy would be that he is refreshingly polite (a true gentleman), a man of integrity, a man with the right priorities, respectful, and one who is willing to listen to criticism and seeks to improve himself if needed".



Mary Lydon Simonsen ( from The Perfect Bride for Mr Darcy - Interview)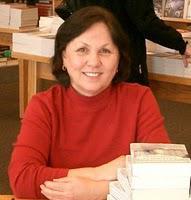 I think Darcy's appeal is that he is not perfect. Better yet, he is a man capable of alteration. Because of Elizabeth's rejection of his proposal, he recognizes his defects and makes the conscious decision to change his ways because he wants to be a man worthy of Elizabeth's love. I had the same effect on my husband, except he didn't have Darcy's fortune
Pamela Aidan (from Talking Jane Austen with ... Pamela Aidan)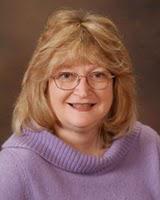 When you say a "cult model hero," we can only be talking about the popularity of Darcy post-1995 BBC Pride & Prejudice. Previous to that production, I think we'd be hard pressed to find evidence of Darcy as cult hero. It was that 1995 production in which Colin Firth interpreted Darcy to the world that started this Austen character on the road to wide-spread acclaim. The elements were all present or potentially so as Austen wrote them, of course. Every regency novel written after Austen owes its plot and characters to her story of initial antagonism between a man and woman of unequal status. But it was only after Firth's portrayal of a Darcy that is vulnerable as well as proud, with a sense of humor and a real admiration of Elizabeth prior to the first proposal that this Austen character shot into the company of heroes. The later version, starring Matthew McFadyen continued, to some degree, this new interpretation of Darcy as more than a stiff poker tersely delivering set-downs to all and sundry.

Victoria Connelly (from Talking Jane Austen with ... Victoria Connelly)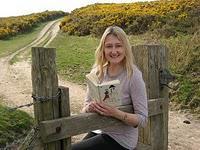 "I think Mr Darcy is a hero for all time because he isn't afraid to admit to his mistakes. He's also willing to change for the woman he loves and that's irresistible! And he cares deeply for Elizabeth and does all he can to safeguard her and her family"


And now it's your turn! What makes Mr Darcy so special?